Spectronics Wins Plant Engineering's Product of the Year Award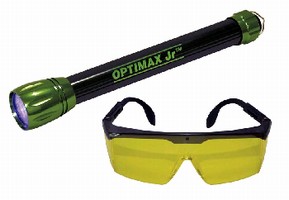 Westbury, New York-Spectronics Corporation's OPTIMAX Jr(TM) leak detection flashlight was recognized as a 2005 Product of the Year by Plant Engineering magazine. It was voted by the journal's readers to be the top product in the Maintenance Tools and Equipment category.

The OPTIMAX Jr is a super-compact, fluorescent leak detection flashlight that can fit in a shirt pocket, but has mega power that quickly reveals the smallest leaks in air conditioning and refrigeration systems. It has a 100,000-hour LED bulb and is powered by three AA batteries, which are included.

"We are very pleased to be receive this prestigious award," said Jon Cooper, president of Spectronics Corporation. "Our engineering department strives to design top-quality products that help our customers perform their jobs more easily and more profitably. The OPTIMAX Jr meets this goal because it is so powerful, despite its compact size, allowing technicians to find even the smallest refrigerant leaks in areas that larger inspection lamps just cannot reach."

For more information about the OPTIMAX Jr, write to Spectronics Corporation, 956 Brush Hollow Road, Westbury, New York 11590. Call toll-free 1-800-274-8888 or fax 1-800-491-6868. Outside the United States and Canada, call 516-333-4840 or fax 516-333-4859. Website at www.spectroline.com.

More from Fasteners & Hardware