Spectrometer analyzes elements and measures thickness.
Press Release Summary: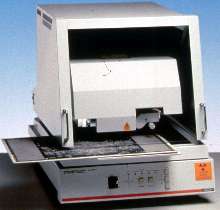 Energy-dispersive X-ray fluorescence spectrometer Fischerscope® X-Ray XDAL performs quantitative element analysis and thickness measurements. System analyzes solid samples, powders, paste-like materials, and liquids for 24 elements. Utilizing semiconductor detector with Peltier cooling and WinFTM® v6 software, tube features adjustable high voltage of 10, 30, and 50 kV. Large measurement chamber is 460 x 500 x 300 mm.
---
Original Press Release:

Unique New Fischerscope® X-Ray XDAL Can Perform Both Element Analysis and Thickness Measurement


WINDSOR, CT (January 7, 2003)-The unique new Fischerscope® X-Ray XDAL from Fischer Technology is an energy-dispersive X-ray fluorescence spectrometer capable of performing both quantitative element analysis and thickness measurement in one integrated measurement system.

The XDAL can analyze solid samples, as well as powder, paste-like materials and liquids for up to 24 elements from Al (Z=13) to U (Z=92). In addition, coating thickness of complex multi-coating systems with up to 24 different coating layers and their compositions can be measured.

The exceptionally powerful capabilities of this unique instrument are achieved by the use of a semiconductor detector with Peltier cooling for high spectral energy resolution and the WinFTM® Version 6 Software for materials and multi-dimensional coating analysis.

Extremely accurate materials analyses and coating thickness measurements, even in the sub-micrometer range are now possible. A video microscope with up to 184x magnification and programmable XYZ travel allow fully automatic measurements.

The X-ray tube features adjustable high voltage of 10, 30 and 50 kV and the X-Ray XDAL offers a large measurement chamber with internal dimension of 460 mm wide, 500 mm deep and 300 mm high (18.1" x 19.7" x 11.8").

A perfect application of the X-Ray XDAL is jewelry inspection, often involving highly complex coating systems where individual elements can be present several times in the various coatings and in the substrate material. For example, the WinFTM V6 software masters even such difficult measurement applications as Au/AuCdCu/Ni/CuZn.

The X-Ray XDAL also is ideal for quality assurance of electronic components. Since the WinFTM V6 allows a definition of the measurement application in a simple manner-only the number of coatings, the elements contained in them and substrate material need be entered in the menu-driven software. This enables standard-free measurements even without calibration standards, which is particularly useful when developing new coating systems, when suitable standards are not available.

Fischer has been an innovative leader in the field of non-destructive thickness measurement and material testing instruments since 1953. Solutions are available for coating thickness measurement using the X-Ray fluorescence, beta backscatter, magnetic induction, eddy current and coulometric methods. Fischer also offers solutions for measurement of microhardness, conductivity, ferrite content and porosity testing.

For more information about all the ways the FISCHERSCOPE® X-Ray XDAL can help solve the toughest testing and analysis challenges, contact Fischer Technology, Inc., 750 Marshall Phelps Rd., Windsor, CT 06095. 1-800-243-8417. In CT (860) 683-
0781. FAX: (860) 688-8496. E-mail: info@fischer-technology.com Web: www.fischer-technology.com.

More from Laboratory and Research Supplies and Equipment