Specialized Rotary Union for Centrifuge Applications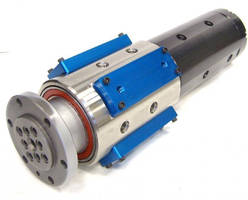 MINNEAPOLIS, Minn. - January 20, 2009 - Dynamic Sealing Technologies offers specialized rotary union assemblies that are specifically suited to centrifuge applications.

The unit pictured has 8-independent passages designed to transfer air & fluids to a rotating centrifuge. Special cooling manifolds were added to the outer housing to control operating temperatures during 300 rpm use.

About DSTI --

Dynamic Sealing Technologies, Inc. (DSTI) specializes in the design, manufacture and integration of rotary unions and rotating joints worldwide. DSTI's rotary unions are used to distribute a variety of fluids from a stationary inlet to rotating equipment. The company offers a full line of standard products for a wide variety of applications, as well as complete, specialized rotary union design and manufacturing services.

For more information, please call 763.786.3758 or email info@dsti.com, or visit www.dsti.com.

More from Electrical Equipment & Systems