Speaker System is designed for multimedia applications.
Press Release Summary: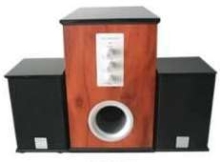 Providing dynamic, realistic sounds, AN-2430 consists of 3-piece system: floor-mounted subwoofer and 2 ergonomic cube satellite speakers. Wooden-box construction offers low-distortion sound performance. This 2.1 channel speaker system can be used with any digital and analog audio sources, including PCs, notebooks, DVD players, VCD players, CD players, TVs, and MP3 players.
---
Original Press Release:

AN-2430, Specially Designed for Your Multimedia Entertainment from Addnew!


AN-2430, this powerful three-piece system provides full dynamic, realistic sounds with its subwoofer and satellite speaker combination. Its ergonomic cube satellite speakers give you outstanding fidelity and stereo imaging, and its floor-mounted subwoofer revs up a deep, solid bass response. It's all thanks to its amplifier with its built-in-high-pass electronic crossover.

AN-2430 with its stylish satellite wooden boxess, elegant wooden casing and high quality, low distortion sound performance .Widely applied to any digital & analog sound (audio) sources including PC, Notebook, DVD Player, VCD Player, CD Player, TV, MP3 Player, Walkman, Discman, etc..

So start hearing what you've been missing--with the Addnew's 2.1 Speaker System. Take a time to browse www.addnew.net, addnewtech.com, you will find the more latest models at the extremely competitive price.

More from Electrical Equipment & Systems