SPDT Absorptive RF Switch features constant impedance technology.
Press Release Summary: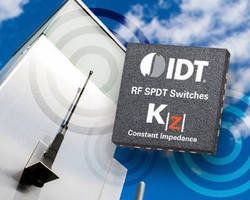 F2923, supplied in 4 x 4 mm, 20-TQFN package, serves such RF applications as base stations, wireless backhaul, CATV, and portable handhelds. Covering 300 kHz to 8,000 MHz, integrated K
Z
technology ensures device delivers near-constant impedance (VSWR <1.4:1) when switching from one RF port to another while not compromising isolation, linearity, or insertion loss (0.48 dB at 2 GHz). Switch uses single positive supply voltage of 3.3 V and supports 1.8 and 3.3 V control logic levels.
---
Original Press Release:

IDT Improves RF Switch Performance with New SPDT Switch Featuring Kz Constant Impedance Technology



IDT's F2923 Provides Constant Impedance on All Ports During Switching Transitions without Compromising Isolation, Linearity or Insertion Loss



SAN JOSE, Calif. – Integrated Device Technology, Inc.® (IDT®) (NASDAQ: IDTI) today introduced the industry's first single-pole, double-throw (SPDT) RF switch featuring its patent-pending K(Z) constant impedance technology. The IDT F2923 is a low insertion loss SPDT absorptive RF switch designed for a multitude of RF applications, including base stations (2G, 3G, 4G, 5G), wireless backhaul, CATV, and portable handhelds.



The K(Z) feature controls all port impedances when switching between RF ports, preserving the return loss. Standard switches without K(Z) create a large voltage standing wave ratio (VSWR) transient when switching RF paths because the impedance of the switch is not well controlled during the switching event. A VSWR transient can degrade system performance and reduce reliability.  Benefits of K(Z) in different dynamic or "hot switching" scenarios include:

--  Minimizing switched Tx/Rx Synthesizer pulling and recovery time in TDD systems

--  Avoiding damage and error-inducing transients when switching between two RF elements such as PAs, drivers and LNAs.

--  Minimizing transient amplitude and phase error on the unswitched path(s) when switching a path of a distribution network such as a 3 dB coupler or 4 way splitter



"With this latest SPDT switch, we highlight our new K(Z) technology to dramatically improve hot-switching performance," said Chris Stephens, general manager of IDT's RF division. "The F2923 demonstrates yet again IDT's leadership in the core RF innovations that system developers desire."



In addition to K(Z) technology, the device delivers:

--  Insertion loss of only 0.48dB at 2GHz

--  IIP3 greater than 66dBm @ 2GHz

--  Industry-leading isolation of 74 dB at 2 GHz



Covering a broad frequency range from 300kHz to 8000MHz, IDT's innovative K(Z) technology ensures the device delivers near-constant impedance (VSWR < 1.4:1 compared to 9:1 for standard switches) when switching from one RF port to another while not compromising isolation, linearity, or insertion loss. The F2923 uses a single positive supply voltage of 3.3V and supports standard 1.8V and 3.3V control logic levels.



Availability

The F2923 switch is sampling and comes in a 4 x 4 mm 20-TQFN package.



About IDT RF Products

IDT offers high-performance and full-featured radio frequency (RF) products that deliver exceptional performance in compact packages. All IDT RF signal path devices are silicon based, offering inherent advantages over GaAs-based products. The portfolio includes RF mixers, RF and IF variable gain amplifiers (VGA), digital step attenuators (DSA), demodulators, broadband modulators, RF switches, and wideband voltage variable attenuators. IDT's RF devices are ideal for use in such products as cellular 4G base stations, broadband repeaters, distributed antenna systems and microwave backhaul equipment.



About IDT

Integrated Device Technology, Inc. develops system-level solutions that optimize its customers' applications. IDT uses its market leadership in timing, serial switching and interfaces, and adds analog and system expertise to provide complete application-optimized, mixed-signal solutions for the communications, computing and consumer segments. Headquartered in San Jose, Calif., IDT has design, manufacturing, sales facilities and distribution partners throughout the world. IDT stock is traded on the NASDAQ Global Select Stock Market® under the symbol "IDTI." Additional information about IDT is accessible at www.IDT.com. Follow IDT on Facebook, LinkedIn, Twitter, YouTube and Google+.



IDT and the IDT logo are trademarks or registered trademarks of Integrated Device Technology, Inc. All other brands, product names and marks are or may be trademarks or registered trademarks used to identify products or services of their respective owners.



IDT Press Contact:

Dean Solov

Public Relations Manager

Phone: (408) 284-2608

E-mail: dean.solov@idt.com



Web Site: http://www.IDT.com

More from Laboratory and Research Supplies and Equipment