Space Grade Hermetic Connectors 38999 Class H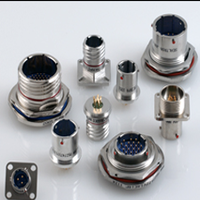 Best service and quality for our customers
After decades of producing commercial and military grade aerospace connectors, AMETEK has optimized and qualified a line of high-performance connectors specifically for use in space applications.
AMETEK is pleased to announce these solutions are qualified to MIL-DTL-38999, Class H as of March 30, 2021.
MIL-DTL-38999, Contact styles P, X and C
Series I - MS27469, MS27470, MS27471
Series II - MS27475, MS27476, MS27477, MS27478
Series III - D38999/21, D38999/23, D38999/25, D38999/27
Passivated stainless-steel bodies
Robust Performance in Space Applications
In the vacuum of space, volatiles from construction materials condense on optics and electronics, degrading their performance or causing failures.
Sealtron and Hermetic Seal outgas space grade connectors in a hard vacuum for 24 hours, eliminating the volatiles from the connector.
Testing of the outgassed elastomeric materials to ASTM E-595 revealed levels of Total Mass Loss of less than 1.0%, Collected Volatile Condensable Materials of less than 0.1%, and Water Vapor Recovered of less than 1%.
Hermetic Seal & Sealtron vacuum furnaces can achieve a maximum operating temperature of 1343°C (2450°F) at 5x10-6 torr vacuum, suitable for your special processes
Hermetic Seal Corporation
Tel: 626-443-8931
4232 Temple City BLvd
Rosemead.CA 91770
Fax:(626)443-6610
Email: marlsa.padilla@ametek.com
Seallron Inc.
Tel: 513-733-8400
9705 Reading Road
Cincinnati. OH 45215
Email:susan.wyatt@ametek.com
More from Electrical Equipment & Systems