SP Series Air-over-Oil Filter Presses weigh 950 to 17,500 kg.
Press Release Summary: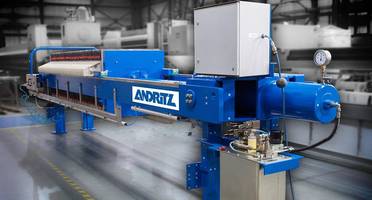 SP Series Air-over-Oil Filter Presses are operated by using a compressed air hose at 6 to 8 bar. Units are equipped with a pneumatically driven high-pressure pump which delivers hydraulic pressure of 400 bar. Products measure 1.94 x 0.69 x 1.27 m to 9.68 x 1.43 x 1.99 m dimensions and offer two-handed control option. Devices come with a filter area of 6.5 to 226.4 m² and volume of 69.4 up to 2,401 l. These presses are integrated with a pneumatic interlock.
---
Original Press Release:
ANDRITZ SEPARATION Presents New Product Series of Filter Presses Driven by Compressed Air
Graz. ANDRITZ SEPARATION, part of international technology group ANDRITZ, has developed a new, innovative product series of filter presses. The SP series is a so-called "air-over-oil" filter press driven exclusively by compressed air – a power connection is, therefore, not required. With the new SP series, ANDRITZ is primarily targeting the process and wastewater industries.
Air-over-oil filter presses are used wherever there is no power connection available or possible in a process line. By deliberately dispensing with electrical equipment, the SP series is a cost-effective alternative to conventional machines and a further development of the filter presses designed for manual operation only. Due to their easy handling and modular design, the new filter presses are flexible for use in a wide range of applications in solid-liquid separation. The series is based on a small number of unit sizes, which significantly reduces the effort for storage of spare parts and training of operating personnel.
Safe operation
The filter press operates according to the so-called plug-and-play principle. To start up the machine, the operator needs only connect up a compressed air hose at 6 to 8 bar to the pneumatic cabinet.
The heart of the new press is the hydraulic unit operated by compressed air. Once supplied with air, the pneumatically driven high-pressure pump generates up to 400 bar hydraulic pressure. Two-handed control guarantees safe operation. The inflowing hydraulic oil then moves the cylinder that generates the locking force required to close the press securely. After completion of the filtration process, the operator relieves the pressure in the press and opens it again with two-handed control.
As the safety of the operator and of the process always has top priority at ANDRITZ, a so-called pneumatic interlock has been developed. It serves as an additional safeguard against unintentional opening of the press during the filtration process. Thus, the pneumatic-mechanical interlock makes it impossible to open the press while it is pressurized.
As part of further development work, the level of automation has been increased by means of a semiautomatic, pneumatically assisted plate transport system. When the operator has opened the filter press safely, he can use the plate transport system. Using the pneumatically driven cylinder, the operator can move the filter plates in parallel without any great effort, making things much easier for the operator, especially if he has several presses to operate.
The new SP series filter presses at a glance
Filter area: 6.5 to 226.4 m²
Volume: 69.4 up to 2,401 l
Filter press sizes (lxwxh): 1.94 x 0.69 x 1.27 m to 9.68 x 1.43 x 1.99 m
Weight of filter presses when empty: 950 to 17,500 kg
The ANDRITZ GROUP
ANDRITZ is a globally leading supplier of plants, equipment, and services for hydropower stations, the pulp and paper industry, the metalworking and steel industries, and for solid/liquid separation in the municipal and industrial sectors as well as for animal feed and biomass pelleting. Other important business segments include automation and service business. In addition, the international group is also active in the energy generating sector (steam boiler plants, biomass boilers, recovery boilers, and gasification plants) and in environmental technology (flue gas cleaning plants), and offers equipment for the production of nonwovens, dissolving pulp, and panelboard (MDF), as well as recycling plants. The publicly listed technology Group is headquartered in Graz, Austria, and has a staff of approximately 25,200 employees. ANDRITZ operates more than 250 sites in over 40 countries.
ANDRITZ SEPARATION
ANDRITZ SEPARATION is one of the leading separation technology specialists with the broadest technology portfolio in solid/liquid separation. ANDRITZ has been a driving force in the development of technologies and services for solid/liquid separation for over 150 years as well as for the production of animal feed and biomass pellets. The industries served include the environment, food, chemicals, and mining and minerals. The comprehensive product portfolio for solid/liquid separation includes mechanical technologies such as centrifuges. filters, screens, thickeners, or separators, and thermal technologies such as dryers or coolers. The service sector focuses on plant modernization, spare and wear parts, and process optimization.
More from Health, Medical, & Dental Supplies and Equipment