SP Industries Customizes Rolo Dumper Design to Meet Low-clearance Challenges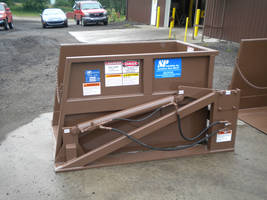 Hopkins, MI – August 25­, 2020 – SP Industries recently customized a low-profile Rolo Dumper to accommodate a customer's shallow dump height. By adjusting the hydraulic dumper pivot point to 24 inches (normally 48 to 84 inches), the 4000 lb. capacity dumper met the required dump height of 105-inches for the customer's 72-inch carts. The custom dumper design eliminates unloading plant waste by hand, reducing potential injuries from repetitive lifting and bending during the disposal process.
SP's Rolo Dumper series is offered with:
1000, 2000, 4000, 6000, and 8000 lb. capacities
Standard dump pivot heights from 48 to 84 inches
Carts can be customized to customer's required specifications
All SP compactors meet/exceed ANSI and OSHA specifications for safety and are backed by the company's best-in-industry warranty program. American supplied electrical and hydraulic components are specified for reliability and easy nationwide serviceability.
Media Contacts
Company: Adam Pool | SP Industries | adam@sp-industries.com | 1-800-592-5959
Agency: Julie Eleftheriou | Longren & Parks | julie@longrenparks.com | 952-913-3065
About SP Industries
SP Industries, established as a manufacturing facility in 1957, initially operated as Quality Steel Fabrication specializing in custom fabrication for Caterpillar Tractor, GMC, Excello Corp. and Lockheed Manufacturing, among others. The company was at the forefront of industry developments, building compactor rams and frames for Spartan Waste-Pac, the original designer, patentee, and manufacturer of refuse reduction equipment. After several changes in ownership, key long-term employees evolved the company into SP Industries Inc., which has maintained its position as the leading waste handling equipment manufacturer in the world, specializing in waste handling compaction and dumper systems tailored to the specific requirements of diverse industrial and commercial applications.
For more information, visit bestcompactors.com, email info@sp-industries.com, or call 269-793-3232.
More from Electronic Components & Devices