Southern Glove's Mud Dawg(TM) Glove Wins ISHN 2013 Readers Choice Award for Hand Protection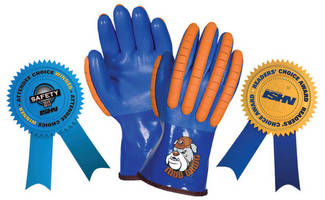 The readers of the monthly trade publication ISHN have chosen Southern Glove's Mud Dawg™ impact glove as the 2013 winner of the "Hand Protection" award.



"We're proud that readers of ISHN magazine have recognized our Mud Dawg Invert Mud Glove for providing top-quality finger and hand protection," said Brent Fidler, president and CEO of Southern Glove, a leading manufacturer of industrial gloves.



"The Mud Dawg is the latest addition to our line of impact gloves, which also includes the new Arma-Tuff glove and the popular Sarco Impact glove," he added. "It's particularly satisfying to have a new product embraced so quickly by the oil and gas drilling industry."



ISHN will recognize Southern Glove's winning Mud Dawg glove in its August issue and in an e-newsletter. The company also will receive an award commemorating the achievement.



The Mud Dawg features an exoskeleton of Sarco Impact Armor that protects the back of the hand, fingers and thumb from pinch points and crushing blows. This feature also allows the wearer more comfort and hand mobility with minimal hand fatigue. The glove is triple-dipped in PVC to offer maximum protection against petrochemicals and moisture in oil drilling environments. The Mud Dawg also features a textured palm for a sure grip and is aailable with removable winter and summer liners for year-round comfort.



The ISHN Readers' Choice Awards recognize the most innovative personal protective equipment (PPE) and safety products. Readers selected the winners by visiting the publication's website and viewing images, product specifications and vendors' paragraphs explaining why their product deserved to win.



Southern Glove's products are available exclusively through a network of authorized glove distributors throughout the United States. The company also carries an extensive inventory of products at its warehouse in Newton, N.C.



For more information on the Mud Dawg Invert Mud Glove, or to find the authorized Southern Glove distributors nearest to you, call Southern Glove toll free at 1-800-222-1113 or visit www.southernglove.com.



More from Software