Sorter handles cut rag tobacco.
Press Release Summary: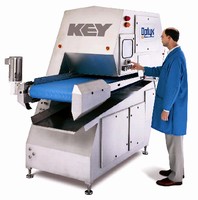 Designed to optimize purity of tobacco, Optyx® eliminates non-tobacco related materials such as filter material, charcoal, glue, and cellophane in cut rag tobacco prior to primary processing. Cut rag is inspected with sensors that detect NTRM based on color, size, shape, and objects' optical properties. Optyx 3000 handles 750 kg/hr while Optyx 6000 handles 1,500 kg/hr. Systems can be configured with RGB color cameras, tri-chromatic Vis/IR cameras, and/or laser technology.
---
Original Press Release:

Key Technology Introduces Optyx® Sorter for Cut Rag Tobacco



November 13, 2007 - Key Technology introduces the Optyx® Sorter for cut rag tobacco at TABEXPO Stand A28, Hall 6. Designed to eliminate NTRM (non-tobacco related materials) such as filter material, charcoal, glue, and cellophane in cut rag tobacco prior to introducing the cut rag product into the primary processing line, Optyx enables tobacco processors to optimize purity and reduce exposure to product liability claims.

As tobacco processors increasingly focus on improving product quality, the introduction of NTRM from cut rag is being scrutinized. Mechanical sieves that are traditionally used to sort cut rag tobacco are inefficient at eliminating tear strips, filter material, and cellophane, thus these materials are often introduced to the primary processing line, degrading purity. With Optyx, cut rag is inspected with sensors that detect NTRM based on color, size, shape, and the objects' optical properties to maximize defect removal.

Like Key's high volume Tobacco Sorter(TM) 3 (TS3) for primary processing line and lamina line applications and Key's Optyx for lamina and stem inspection on the threshing line as well as recovery operations on the primary processing line, Optyx for cut rag detects and removes a wide range of NTRM.

Optyx is available in two sizes. Inspecting cut rag, Optyx 3000 handles 750 kg/hr and Optyx 6000 handles 1,500 kg/hr. Featuring up to three sensors located above and/or below the product stream, Optyx can be configured with high-performance RGB color cameras, tri-chromatic Vis/IR cameras (which combine visible color and infrared technology), and/or laser technology. For tobacco, Vis/IR cameras are ideal because they easily detect same-color NTRM based on unique product signatures that are best identified within the infrared spectrum.

With the highest resolution scanning and the most advanced image processing in the industry, Optyx for cut rag detects the smallest NTRM to maximize product quality while maximizing yields.

About Key Technology, Inc.
Key Technology, an ISO-9001 certified company, is a leading designer and manufacturer of process automation systems, integrated electro-optical inspection and sorting systems, and processing systems. Key® systems help processors to improve quality, increase yield, and reduce cost. With worldwide sales representation, the company maintains demonstration and testing facilities at its headquarters and manufacturing divisions in Walla Walla, Washington, USA, and at Key Technology BV in Beusichem, the Netherlands. The company's common stock trades on the Global Market tier of The NASDAQ Stock MarketSM under the symbol: KTEC.

Reader Inquiries:
Anita Funk
Key Technology
150 Avery Street
Walla Walla, WA 99362 USA
Tel: 509 529 2161
Fax: 509 527 1331
afunk@key.net
www.key.net