Sonar Imaging System offers 3D underwater view.
Press Release Summary: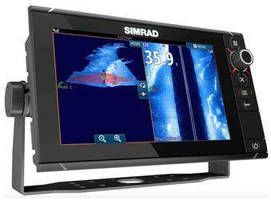 With Simrad® StructureScan® 3D, boaters can see fish, underwater structure, and bottom contours in 3-dimensional display on NSS and NSO evo2 navigational systems. Product scans underwater terrain to create high-resolution, 180° 3D view in depths to 300 ft and as far as 600 ft port and starboard. Using virtual point-of-view angles or ScanTrack™ pan-tilt-rotate control, anglers can combine custom HD and 3D views to increase situational awareness and efficiently search fishing areas.
---
Original Press Release:

Simrad® Structurescan® 3D - A New Dimension in Sonar



Electronics Leader Enhances Displays with Three-Dimensional Underwater Views



Tulsa, Okla. – Simrad® StructureScan® 3D was announced today, giving boaters and fishermen a unique three-dimensional underwater view of the ocean floor, its structures and fish suspended in the water.



Simrad StructureScan 3D allows boaters to easily see fish, underwater structure and bottom contours in a stunning three-dimensional display on their NSS and NSO evo2 navigational systems. StructureScan 3D imaging quickly scans underwater terrain to create high-resolution, 180-degree super-wide, three-dimensional views – in depths to 300 feet and as far as 600 feet port and starboard. Yielding captivating images with unprecedented detail, StructureScan 3D gives cruisers and offshore anglers a better understanding of where fish, bottom contours and structure are located in relation to their boat. The true-to-life 3D scans are viewed on the Simrad NSS and NSO evo2 display, when used in combination with the SideScan 3D Skimmer® transducer and StructureScan 3D module – making the NSS and NSO evo2 the ultimate fishfinders.



StructureScan 3D sonar provides multiple viewing options including boosted DownScan Imaging™, even more detailed StructureScan HD and the new revolutionary three-dimensional views. Using virtual point-of-view angles or ScanTrack™ pan-tilt-rotate control, anglers can combine custom HD and 3D views to increase situational awareness and search fishing areas as never before.



In addition to outstanding crystal-clear imaging, StructureScan 3D has exclusive features that make finding fish even easier including:



Leading Edge™ scanning reference provides a clear graphical illustration of the sonar beams as they intersect with the bottom contours and gives the angler a better sense of target depth.



SelectScan™ water column target coloring automatically shades fish-holding cover and suspended targets in a color that contrasts the selected color palette, making target identification quicker and easier than ever before.



Vertical Depth Enhancement provides emphasis to vertical drops and crucial depth contour changes making them easier to identify relative to the surrounding underwater terrain.



3D Waypoint Overlay makes it easy to revisit fishing areas, structure and other underwater sweet spots. Use the waypoint keypad to save a waypoint at the boat location or switch to cursor mode and save a waypoint over specific targets, baitfish schools or cover.



"With StructureScan 3D, boaters can search for fish and underwater structure like never before," said Leif Ottosson, CEO and president, Navico. "With the addition of StructureScan 3D to our NSS and NSO evo2 range, we will change the way people use their multifunction displays. Giving offshore anglers a unique three-dimensional view of fish, structure and bottom contours maximizes their time on the water. With the remarkably clear views boaters can also easily identify diveable wrecks and ideal anchorages."



Scheduled for availability December 2015, Simrad StructureScan 3D can be purchased from authorized Simrad Yachting dealers and distributors throughout the United States and Canada and is priced at $999 for the module and Skimmer transducer kit. For more information about StructureScan 3D, the entire Simrad Yachting line of marine electronics, please contact 800-324-1356 (toll-free) in the USA or 800-661-3983 (toll-free) in Canada or visit simrad-yachting.com.



About Simrad Yachting: The Simrad Yachting brand is wholly owned by Navico, Inc., a privately held, international marine electronics company. Navico is currently the world's largest marine electronics company, and is the parent company to leading marine electronics brands: Lowrance, Simrad Yachting, B&G, and GoFree. Navico has approximately 1,500 employees globally and distribution in more than 100 countries worldwide. www.navico.com

More from Architectural & Civil Engineering Products