Solidification System targets sulfur applications.
Press Release Summary: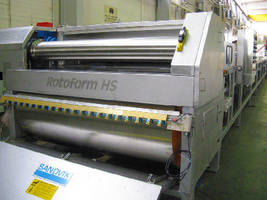 With virtually no dust or vapor emissions, Rotoform® HS2000 enables throughput rates up to 400 TPD. Product to be solidified is deposited in form of droplets across continuously running steel belt. As belt travels along system, cold water is sprayed against underside and heat is transferred from droplets to cooling water. Controlled solidification ensures production of monogranules ranging from 2-4 mm in diameter, with no need for subsequent screening, remelting, or de-watering.
---
Original Press Release:

Sandvik at Sulphur 2011 International Conference & Exhibition



November 2011, Houston, Texas, USA - Booth 22

WIDE ROTOFORM® BOOSTS SOLIDIFICATION CAPACITY BY 33%

Sandvik delivers increased sulphur handling capacity with launch of new Rotoform® HS2000

Sandvik Process Systems has revealed the development of a Rotoform® system with a solidification capacity one third greater than its existing high speed model. The increased capacity of the new Rotoform HS2000 is achieved through the use of a wider depositor and steel belt, enabling throughput rates of up to 400 TPD.

Trials have proved successful and orders for the system have already been received from customers in Europe and Asia.

This is the latest addition to a system line-up that has continued to evolve since the first Rotoform was installed in the early 1980s. Industry demand for higher capacities led to the successful introduction in 2005 of Sandvik's Rotoform HS, a system that has since been installed in some of the world's largest sulphur solidification projects including refineries in Bahrain, India and Greece.

"The HS2000 is a logical progression of this success," says Sandvik's Hans-Georg Pohle. "Stricter environmental legislation means more sulphur is being extracted these days and operators need to be able to process this as cleanly and efficiently as possible."

The system is based on the same principle as other Rotoforms in the range, with the product to be solidified being deposited in the form of droplets across a continuously running steel belt.

As the steel belt travels along the system, cold water is sprayed against the underside and heat is transferred from the droplets - via the steel belt - to the cooling water. This controlled solidification ensures the production of premium quality monogranules of 2-4 mm in diameter.

With virtually no dust or vapour emissions and no need for subsequent screening, remelting or de-watering, the process has minimal environmental impact and satisfies all current international legislation. High reliability and scheduled preventative maintenance delivers availability of more than 8400 h/a. Another advantage is the ability to operate multiple process lines individually side-by-side to cope with varying throughput requirements.

For further information please contact:

Hans-Georg Pohle, Sandvik Process Systems,

Salierstr. 35, D - 70736 Fellbach, Tel +49 711 5105 117 or

e-mail: hans-georg.pohle@sandvik.com

More from Communication Systems & Equipment