Solid State Relays suit demanding industrial applications.
Press Release Summary: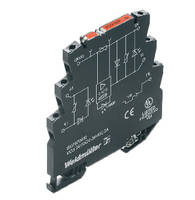 Suited for automation installations, MICROOPTO ACTOR supports 3-wire actuators up to 24 Vdc and 2 A, with inductive loads such as solenoid valves and contactors. MICROOPTO 300VDC, designed for inductive loads up to 300 Vdc and 1 A, is suitable for switching motor brakes and contactors. Supporting frequencies up to 100 kHz, MICROOPTO 100kHz ensures rapid signal translation while providing isolation. All 3 switching amplifiers are DIN rail mountable with LED status indication.
---
Original Press Release:

Innovative Solid State Relays for Demanding Industrial Applications-New MICROOPTO from Weidmuller



RICHMOND, VA (August 12, 2009) - Weidmuller introduces the new MICROOPTO line of solid state relays, designed specifically for the demands of industrial applications. Typical applications for the new optocouplers include driving 3-wire inductive actuators such as solenoids; as an interface with high frequency sensors or switches; and amplifying highly inductive 2-wire loads such as motor brakes or contactors. The combination of high-speed operation, stability, and a long operating life in a small package makes the MICROOPTO relays a perfect solution for automation installations. The new MICROOPTO family is comprised of three powerful and efficient devices- the ACTOR, the 300VDC and the 100kHz versions.

The MICROOPTO ACTOR solid state relay is a switching amplifier for actuators up to 24VDC and 2A, with inductive loads such as solenoid valves and contactors. It supports 3-wire actuators, enabling the operation of solenoids and other motors in automation applications. This relay features suppression diodes and varistors for short-circuit protection and security against application-related transients and spikes. Functioning as an intelligent MOSFET (DC), the MICROOPTO ACTOR provides low contact resistance and very small leakage currents. This ensures minimal power loss and heat development, making the MICROOPTO an efficient and reliable solution for switching higher load currents.

The MICROOPTO 300VDC solid state relay is a switching amplifier for high inductive loads up to 300VDC and 1A. It is ideal for switching motor brakes and contactors. It features a power boost in the load circuit that compensates for transient feedback (20A for 20ms/5A for 1s) to protect from electrical spikes. THE MICROOPTO 300VDC also has suppression diodes and varistors for additional circuit and overvoltage protection.

The MICROOPTO 100kHz solid state relay is a switching amplifier for high frequencies up to 100kHz. It is designed to ensure rapid signal transition while providing isolation without a delay. Typical uses include high frequency pulses such as speed monitors or count-data passing between sensors.

Standard features for the MICROOPTO line include a wide operating temperature, low power consumption, LED status indication and pluggable cross connections. All three versions of the slim, 6.1mm DIN-rail mountable MICROOPTO relays undergo factory functional and dielectric testing, and are CE and UL approved.

Weidmuller is the leading provider of solutions for the transmission of power, data and control signals in industrial environments. The company develops, produces and sells industrial electronics, network infrastructure components and connectivity solutions such as Wireless Solutions, Industrial Ethernet, Relays, Power Supplies, I/O modules, printed circuit board connectors, terminal blocks and complete DIN Rail assemblies. The Weidmuller group has a strong international focus with manufacturing and sales locations in over 70 countries.

More from Cleaning Products & Equipment