Solid-State LED Luminaires achieve 77 lumens/watt.
Press Release Summary: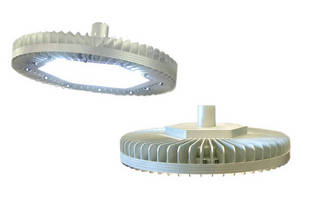 DuroSite LED High Bay Fixtures incorporate Xlamp® XP-G LEDs that deliver nearly 12,000 lumens while consuming 150 W. Delivering overhead illumination for indoor and outdoor applications, units provide cool white light and sustained 80% lumen capacity over 60,000 operating hours. Maintenance-free products last over 10 yr and are IP-66 rated. They have instant on/off operation, are free of hazardous materials, and offer range of mounting options.
---
Original Press Release:

Dialight's New DuroSite(TM) LED High Bay Fixture Achieves 77 Lumens per Watt



Highly efficient and environmentally friendly solid-state LED luminaire delivers massive energy savings for industrial, commercial and infrastructure applications, worldwide.

Farmingdale, NJ - Dialight (LSE: DIA.L), an innovative global leader in LED lighting technology, delivered a breakthrough in LED lighting technology with the introduction of its new ultra-bright DuroSite LED High Bay Fixtures. The Dialight DuroSite High Bay fixture, incorporates Cree's Xlamp® XP-G LEDs, delivering nearly 12,000 lumens while consuming only 150 watts, providing unparalleled levels of quality overhead light, and significantly reducing energy consumption and cost.

With its unique high lumens per watt efficacy, the Dialight DuroSite High Bay fixture combines the latest in LED technology, precision optics and next generation thermal management practices to direct crisp, clear cool white light where it's needed, when it's needed. Sustaining over 80% lumen capacity over 60,000 operating hours, the DuroSite High Bay fixture is virtually maintenance free, lasting upwards of 10+ years.

"Advanced Dialight products like our new DuroSite LED High Bay luminaires are setting a new standard for high brightness LED lighting technology and performance as well as for environmental responsibility," commented [Roy Burton, Dialight's Chief Executive Officer]. "Our high bay overhead lighting solutions require fewer fixtures to achieve the same level of illumination as compared to older conventional technologies, and require far less energy to operate. Lower energy consumption not only lowers CO2 emissions by almost 1 metric ton per fixture, but reduces energy costs, significantly decreasing total cost of ownership over time."

Designed to replace conventional lighting in a wide variety of rugged applications, the IP-66 rated high light output DuroSite High Bay fixtures are ideally suited for both indoor & outdoor applications that require bright, efficiently delivered overhead illumination such as warehouses, cold storage facilities, tunnels and manufacturing plants.

The Dialight DuroSite LED High Bay fixtures utilize Cree XLamp XP-G LEDs, known for their wide viewing angle, symmetrical package and electrically neutral thermal path, which afford exceptionally high light output and maximum efficacy. The Dialight DuroSite High Bay luminaires feature instant on/off operation, requiring no warm up time for full illumination. Free of hazardous materials including mercury, these fixtures are easily recycled at the end of their life cycle, requiring no expensive special disposal methods.

The Dialight DuroSite LED High Bay fixture offers a wide range of mounting options, and retrofit easily into existing wiring systems to make installation simple, easy and fast. As with all Dialight products, the DuroSite LED High Bay Fixture is available through Dialight's global network of authorized distributors. Please visit www.dialight.com for more information including IES files and product catalog information.

About Dialight

Dialight (LSE: DIA.L) defines the current state of LED lighting technology with continuous innovations in light output, efficacy and reliability for their complete line of high-specification lighting fixtures specifically designed for industrial, commercial, hazardous location, transportation & infrastructure applications. These results are directly related to the company's ongoing commitment to advancing solid-state lighting products that vastly reduce maintenance, improve safety, ease disposal, and are more environmentally friendly - thereby helping to reduce CO2 emissions, the dominant GHG contributor to global warming. The company is headquartered in the UK with operations in the USA, UK, Germany and Mexico. More information about the company, its LED products and solid-state lighting technologies can be found at www.dialight.com

More from Paints & Coatings