Solid-State Boot Drive features Windows® 7 TRIM support.
Press Release Summary: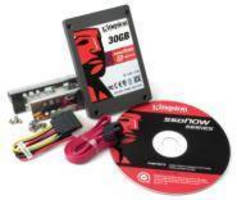 Offering up to 30 GB capacity, SSDNow V Series has 2.5 in. form factor, uses NAND Flash memory components, and helps desktop users extend lifecycle of their systems. Performance is optimized via up to 180 MBps read and 50 MBps write speeds and functionality where PC OS and key applications reside on SSD while all data remain on HDD. Shock and vibration resistant unit supports SMART, has 500,000 hr MTBF rating and consumes 55 mW typ during idle/standby/sleep.
---
Original Press Release:

Kingston Digital Releases Solid-State Boot Drive with TRIM Support



30GB SSD with TRIM Support; Aggressive Price Promotion at Launch

LAS VEGAS and FOUNTAIN VALLEY, Calif. -- International CES -- Kingston Digital, Inc., the Flash memory affiliate of Kingston Technology Company, Inc., the independent world leader in memory products, today announced the SSDNow V Series 30GB Boot Drive, the latest addition to its V (Value) family of solid-state drives (SSD). The Kingston(R) SSDNow V Series 30GB Boot Drive ships with TRIM support for Windows(R) 7 and will be promotionally priced at $79.99 after rebates (U.S. only) when the product launches in February*.

"In our quest to bring SSDs into mainstream use, we're aiming to deliver a lower price point while boosting performance. The new SSDNow V Series 30GB Boot Drive accomplishes those goals," said Ariel Perez, SSD business manager, Kingston. "Desktop users can extend the life cycle of their systems with this drive and IT managers in the enterprise space like it as there is less data for them to backup to the network. In addition, we will also release a 30GB SSD twin-pack for prosumers and enthusiasts who want to take performance to the next level."

The SSDNow V Series 30GB Boot Drive also offers Windows 7 TRIM support, which helps the SSD maintain high performance through the life of the drive. Using the industry-standard PCMark(R) Vantage Advanced HDD Suite, the 30GB Boot Drive received a score of 20257 on a Windows 7 system**. Using PCMark(R) 05 for a Windows XP system, the 30GB Boot Drive received a score of 22519**. PCMark Vantage Advanced HDD Suite and PCMark 05 runs a series of tests such as Windows 7 and XP startup, importing photos, adding music to Windows Media Center and application loading. The score is an indicator of how many bytes are moved per second.

Kingston's SSDNow V Series 30GB Boot Drive is the perfect enhancement for users looking to increase their current desktop performance. It is designed to be used in conjunction with an existing hard-disk drive (HDD). A PC operating system and key applications reside on the SSD while all data such as documents, music, files and photos remain on the HDD.

As part of Kingston's goal to provide a low-cost SSD solution and an easy upgrade path, the drive is also available with a bundle that includes cloning software, 2.5" to 3.5" mounting brackets and SATA data and power cable extenders. Kingston will also offer a solution for performance-minded enthusiasts looking to install a RAID configuration consisting of two 30GB SSD Boot Drives and two sets of mounting brackets and data and power cables.

The Kingston SSDNow V Series 30GB Boot Drive has an MSRP of $109.99 (U.S.) and will begin shipping in February. It is backed by a three-year warranty, 24/7 tech support and legendary Kingston reliability. For more information visit www.kingston.com.

Kingston SSDNow 30GB Boot Drive Features and Specifications:

-- Sequential Speed**:
- up to 180MB/sec. read
- 50MB/sec. write
-- Performance: enhances productivity; makes users more efficient
-- Innovative: 2.5" form factor; uses NAND Flash memory components
-- Silent: runs silent and cool with no moving parts
-- Reliable: less likely to fail than a standard hard drive
-- Shock Resistant: no moving parts; handles rougher conditions than a hard drive
-- Supports S.M.A.R.T.: Self-Monitoring, Analysis and Reporting Technology
-- Guaranteed: three-year Kingston warranty, 24/7 tech support
-- Capacity(1): 30GB
-- Storage temperatures: -40 degrees C to 85 degrees C
-- Operating temperatures: 0 degrees C to 70 degrees C
-- Vibration operating: 20G Peak, 10-2000Hz, (20min/Axis)x3 Axis
-- Vibration non-operating: 20G Peak, 10-2000Hz, (12Cycle/Axis)x3 Axis, x 20min.
-- Power specs:
- Read: 1.4W (TYP), 2.5W (MAX)
- Write: 1.7W (TYP), 4.2W (MAX)
- Idle, Standby, Sleep: 55mw (TYP)
-- Life expectancy: 500,000 hours MTBF

* Offer available for limited time only at launch. Product ships February 2010.

** Test system: Intel(R) DG945ID Desktop Motherboard; Intel(R) Quad Core Q9550; 4GB DDR2 800MHz system memory; on-board SATA 3Gbps with ACHI enabled in BIOS; OS: Windows(R) 7 Professional x64 or Windows XP Pro x86 SP3 (Intel(R) IMSM installed in both operating systems).

** Based on internal testing. Performance may vary based on system settings.

(1)Some of the listed capacity is used for formatting and other functions and thus is not available for data storage. For more information, please consult Kingston's Flash Memory Guide at Kingston.com/Flash_Memory_Guide.

           Kingston SSDNow 30GB Boot Drive

           -------------------------------

 Part Number       Capacity and Features      MSRP (U.S. only)

 -----------       ---------------------      ----------------

              30GB 2.5  SATA SSD

 SNV125-S2/30GB      (stand-alone drive)       $109.99

 --------------      --------------------       -------

              30GB 2.5  SATA SSD

 SNV125-S2BD/30GB     (desktop bundle)        $124.99

 ----------------     ------------------        -------

              30GB 2.5  SATA SSD

 SNV125-S2BD/30GB-2P    (desktop twin-pack)       $TBD

 -------------------   --------------------       ----

About Kingston Digital, Inc.

Kingston Digital, Inc. ("KDI") is the Flash memory affiliate of Kingston Technology Company, Inc., the world's largest independent manufacturer of memory products. Established in 2008, KDI is headquartered in Fountain Valley, California, USA. For more information, please visit www.kingston.com or call 800-337-8410.

Kingston and the Kingston logo are registered trademarks of Kingston Technology Corporation. All rights reserved. All other marks may be the property of their respective titleholders.

CONTACT: David Leong of Kingston Digital, Inc., +1-714-438-1817, david_leong@kingston.com

More from Material Processing