Solid Carbide Mills cut leak-free tapered threads in pipe.
Press Release Summary: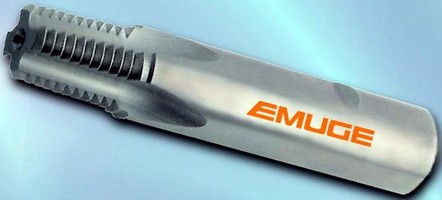 Suited for use in petroleum and natural gas industries, thread mills and insert mills produce threads that achieve tight, leak-free joints in pipe. While spiral-fluted thread mills produce NPT/API thread diameters from 1/16-2 in., indexable partial profile insert thread mills cut NPT/API thread diameters from 1-20 in. Solid thread mills feature micro-grain carbide construction and free-cutting geometry. Each indexable insert has 4 usable cutting edges.
---
Original Press Release:

New Solid Carbide Thread Mills Cut Leak-Free Tapered Threads in Petroleum and Gas Pipe



WEST BOYLSTON, MA USA (July 24, 2006) Emuge Corporation, the leader in thread cutting technology, has introduced a new series of thread mills and insert mills that are designed to solve problems with leaking pipe joints in the petroleum and natural gas industries. Emuge's advanced thread mills produce threads with the precision-of-form, dimension and high finish to consistently achieve tight, leak-free joints. They eliminate problems associated with traditional machine tapping or lay-down threading methods.

Two types are available: (1) New spiral-fluted thread mills produce NPT / API thread diameters 1/16" through 2." (2) New indexable partial profile insert thread mills cut NPT / API thread diameters from 1" through 20." The new thread mills extend the application range of Emuge's popular THREAD-MAX and THREADS-ALL programs.

Emuge manufactures the solid thread mills using state-of-the-art grinding techniques that enhance performance, versatility, reliability and ease-of-use. Featuring premium micro-grain carbide and Ticn-coating for exceptional tool life, the thread mills feature a multiple spiral flute design that eliminates chatter. The design incorporates a large cutter diameter with high profile correction to ensure true-to-gage threads and an extended milling section that allows for longer thread lengths as required for API line pipe threads.

The indexible insert thread mills achieve the rigidity, precision and security called for by demanding tapered thread cutting applications. Mill bodies are made from hardened tool steel with CNC-ground Weldon-type shanks or in three bar sizes with an integral CAT50 shank. Internal coolant supply exits radially at the insert cutting edge to optimize cooling, thread quality, tool life and more effectively evacuate small chips. The inserts are made of select, micro-grain carbide with a choice of either TIN or TiALN coatings. They are precision ground with rake and relief angles that tolerate higher chip-per-tooth loads for increased performance. The free-cutting geometry produces low radial cutting pressure to ensure true-to-gage, high quality threads. Each indexable insert has four useable cutting edges for exceptional tool life. To ensure precise positioning of the inserts, precision pockets are machined into the bodies solid steel end face to extremely close dimensional tolerances. Fast edge indexing is easily accomplished at the machine.

"The advanced features designed into these new thread mills reduce cycle times and allow long run times," notes Mark Hatch, Product Manager, Thread Milling for Emuge. "They make the most of current CNC machining technology and smart controllers to give operators outstanding flexibility, process control, tool life and part quality."

Emuge Corp., part of the 1,000+ employee German parent company Emuge-Werk Richard Glimpel KG, has been the product technology and performance leader in their field for over 80 years. The company manufactures an exhaustive line of taps, end mills, thread mills, thrillers, holders and attachments, over 100,000 items sold through distributors worldwide.

North American Headquarters of Emuge are located in a new state-of-the-art cutting technology center in West Boylston, MA USA, where machining demonstrations, training, manufacturing, and applications solutions are managed and over 10,000 types of cutting tools and accessories are stocked for prompt shipment. Emuge also offers end user technical support through a network of in-the-field engineers with extensive tooling experience.

For more information on the line of advanced thread mills contact Emuge at 1800 Century Drive, West Boylston MA 01583-2121, Tel. 800-323-3013, Fax 800-393-1302 or visit www.emuge.com.

More from Materials