Solid Carbide Drill is designed for holemaking in aluminum.
Press Release Summary: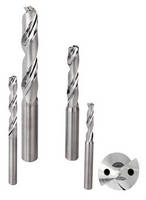 Along with 135° drill point, HPS solid-carbide drill features Beyond™ KN15™ carbide grade with polished surface that reduces friction on flutes, margins, and cutting edges. This promotes chip evacuation, even in minimum-quantity lubrication (MQL) processes. While sharp cutting edges lower cutting forces and extend tool life, spiral flute design accelerates chip evacuation. Diameters range from 0.118–0.787 in., and lengths of 3XD and 5XD (through-coolant) are available.
---
Original Press Release:

New Beyond(TM) Solid Carbide Drill - Maximum Results in Aluminum at a Fraction of the Cost of PCD



Ultimate production tool for aluminum workpieces With its new Beyond™ grade of fine-grain carbide and unique point geometry, the new HPS solid-carbide drill from Kennametal is achieving excellent metal-removal rates and extremely long tool life, making it the ultimate tool for holemaking in aluminum.



Maintaining crucial production schedules while controlling costs is extremely hard when it comes to making high-precision holes in aluminum.  Superhard polycrystalline diamond (PCD) drills are being chosen in up to 80 percent of transportation industry applications to date for cylinder blocks, cylinder heads, gear boxes, suspension parts, and many other critical components.



The downside is premium PCD solutions come at a premium price, making it extremely difficult for automotive industry suppliers and others to control costs and still maintain stringent production schedules.



Kennametal's Beyond KN15™ carbide grade is specifically tailored for aluminum machining and features a highly polished surface that reduces friction on flutes, margins, and cutting edges. This results in superior chip evacuation, even in minimum-quantity lubrication (MQL) processes. Drill design features include a proprietary 135-degree high-performance drill point for excellent centering capabilities and improved feeds, and sharp cutting edges that lower cutting forces and extend tool life. An enlarged spiral flute design further speeds chip evacuation and reduces cutting forces.



Diameters range from 3.0 to 20.0 mm (0.118 to 0.787 in.) and lengths of 3XD and 5XD (through-coolant). Inch, metric, fractions, and tapping sizes are also available.



For more information, visit www.kennametal.com.



Kennametal

Celebrating its 75th year as an industrial technology leader, Kennametal Inc. delivers productivity to customers seeking peak performance in demanding environments. The company provides innovative wear-resistant products, application engineering and services backed by advanced material science, serving customers in 60 countries across diverse sectors of aerospace, earthworks, energy, industrial production, transportation and infrastructure. With approximately 14,000 employees and nearly $3 billion in sales, the company realizes half of its revenue from outside North America, and 40% globally from innovations introduced in the past five years. Recognized among the »World´s Most Ethical Companies» (Ethisphere); »Outstanding Corporate Innovator» (Product Development Management Association); and "America's Safest Companies" (EHS Today) with a focus on 100% safety, Kennametal and its foundation invest in technical education, industrial technologies and material science to deliver the promise of progress and economic prosperity to people everywhere. For more information, visit the company´s website at www.kennametal.com.



Kennametal Shared Services GmbH

Wehlauer Strasse 73

D-90766 Fuerth

Carsten Gromoll

Phone: +49 911 9735 557

Fax: +49 911 9735 551

carsten.gromoll@kennametal.com

More from Cleaning Products & Equipment