Solenoids actuate automation applications.
Press Release Summary: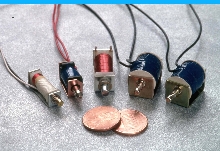 C-Frame solenoids are available in 5 models, each with coil voltage ratings of 3, 6, 12, or 24 Vdc. Force ratings are from 0.09 oz at 0.04 in. stroke to 34.8 oz at 0.02 in. stroke. Available in sizes from 0.69 to 0.91 in. long. Frames are one piece construction and easy to mount via threaded holes in base. Solenoids are suited for gaming machines, centrifuges, scanners, circuit breakers, coin counters, and optical equipment/shutters.
---
Original Press Release:
Bicron Expands C-Frame Solenoid Product Range

Bicron Electronics now offers 5 standard C-Frame solenoids, each with coil voltage ratings of 3Vdc, 6Vdc, 12Vdc or 24Vdc. Frames are one piece construction and are easy to mount via threaded holes in the base. Force ratings range from a minimum of 0.09oz. at a 0.04" stroke to 34.8oz at a 0.02" stroke. Sizes range from 0.69" to 0.91" long.

Noted for low cost, high quality and excellent performance, these solenoids are valued for many automation applications such as gaming machines, centrifuges, scanners, coin counters, circuit breakers, optical equipment/shutters, and more.

Bicron's "Quick Turn Program" allows fast shipment of small volume orders usually within five business days. Standard pricing for a C-frame solenoid is typically less than $1.72 in OEM quantities. Pricing varies with selection of C-Frame models and quantity.

Bicron offers a "modified standard" program, which allows simple modifications to standard solenoids with minimal cost and little delay, giving Bicron many starting points for an almost unlimited range of custom designed solenoids with quick turn around prototype development and economical design costs.

Bicron designs and manufactures a complete range of standard and custom C-Frame, D-Frame, Tubular, Tubular Push-Pull, Magnetic Latching, and Rotary Solenoids. Bicron also designs and manufactures a broad line of standard and custom High Reliability Magnetic Products, including Toroidal Power Transformers, Current Sensors, and High Isolation Voltage Magnetics.

More information and literature may be obtained from:

Bicron Electronics Company

50 Barlow Street

Canaan, CT 06018
Tel: (860) 824-5125, Ext. 1308

Fax: (860) 824-1137

email: info@BicronUSA.com

Web Site: www.BicronUSA.com


More from Material Processing