Solenoid Valve offers single-acting cylinder control.
Press Release Summary: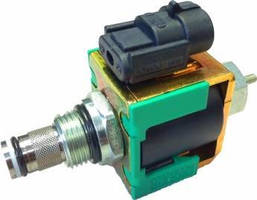 Combining functions of solenoid valve, check valve, and orifice into one unit, Model SVP08-NCF has rated pressure of 3,300 psi and rated flow of 4 gpm. Normally closed, pilot-operated, poppet-type 08-size valve provides flow control when energized. To prevent contamination coming from cylinder, optional 300 µm filter protects valve from port 2. If electrical power is down, operator can switch valve position manually. Optional threaded pin allows pull override via wire cable or knob handle.
---
Original Press Release:

SVP08-NCF Multi-Function Valve for Single-Acting Cylinder Applications



New cartridge valve combines 3 valves into one, while adding manual override and filter options



Easley, SC — Comatrol, a global leader in the design, manufacture and sale of engineered hydraulic cartridge valves and hydraulic integrated circuits (HICs), today introduces the new SVP08-NCF solenoid valve. Recognizing the market need for single acting cylinder control with a focus on customization and flexibility, Comatrol developed this new solenoid with the intent to deliver three valve functions into one design.



SVP08-NCF is a normally-closed, pilot-operated, poppet-type 08-size solenoid valve with flow control when energized. It has a rated pressure of 230 bar (3300 psi) and a rated flow of 16 LPM (4 GPM). Its SDC08-2 cavity complies with NFPA standard. In order to prevent the contamination coming from the cylinder, an optional 300µm filter is always protecting this valve from port 2. Furthermore, there is an additional (optional) threaded pin to allow a pull override via a wire cable or a knob handle.



This valve looks like a normal 2-way, 2-position solenoid valve to function as load holding or blocking valve. But actually, when this valve is energized, an internal check valve will enable a restricted flow to go through an orifice. Previously, a customer had to use three components - a standard 2-way, 2-position solenoid valve, a check valve, and an orifice - to achieve this same function. The SVP08-NCF combines all these functions into one valve, while adding both manual override and filter options.



Current vs new circuit schematics. SVP08-NCF replaces 3 valves, while adding manual override and filter options.



There is a pre-machined orifice in the center of this check valve poppet, with optional sizes according to customer's requirement (1.0, 1.2, 1.4, 1.7 and 2.0 mm). When the solenoid valve is energized and flow comes down in the reverse direction, the poppet remains seated and only allows a very small amount of oil going through the orifice. This is to restrict the lowering speed when a weight makes a single acting cylinder retract. The size of the orifice, of course, has to be determined by the load in the bore and the speed of lowering.



Pull for emergency



If the electrical power is down or low, the operator can switch the solenoid valve position manually. When activated, the flow will go through the orifice, thus controlling the speed of the lowering, dependent on the weight and the size of the orifice selected.



The valve is designed with a pull-type override, which allows threading of a cable or knob onto the end of the valve easily. Using a cable provides flexibility in the mounting location of the valve on the vehicle, while placing the load-lowering knob close to the operator, and out of harm's way when lowering.



The threaded override has also been customized to 4 different types as shown in below picture. People can choose M4 thread as a standard option, or M5 thread, 10-32 UNF thread (U10), PG (knob), M (screw) as other options. The valve can also be ordered without the override.



Manual override options



"SVP08-NCF is a very simple valve working together with a single acting cylinder. It is such a great feature that this valve integrates 3 components into one. I see customers are pleased with its compact design and stable performance," says Rita Zhang (Product Market Analyst / Account Manager of Comatrol China).



Targeted as a very dedicated product, SVP08-NCF not only solves the practical problem for customers, but also demonstrates the great advantage by integrating a solenoid valve, a check valve, an orifice, the emergency function, and filtration. Comatrol product development team did a great job combining these features; it greatly simplifies the design of the cylinder control system and reduces the cost of the vehicle for our customers."



An example application – scissor lift –uses a single-acting cylinder for raising and lowering of the platform and is ideal for the SVP08-NCF.



About Comatrol

Comatrol, a member of the Danfoss Group, is the most responsive source for Cartridge Valves and Hydraulic Integrated Circuit (HIC) solution needs. Comatrol works with customers and suppliers around the world to manufacture high performance machine control solutions for mobile, on-highway, energy, and industrial equipment markets.  Additional information is available at www.comatrol.com, or follow us on Facebook™ at www.facebook.com/comatrol.

More from Electrical Equipment & Systems