Soldering Desoldering Rework System has dual simultaneous ports.
Press Release Summary: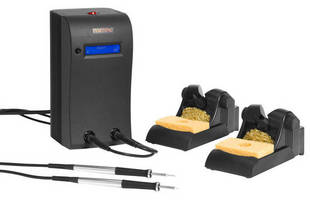 Metcal MX-5200 provides dual simultaneous use option, where 2 hand-pieces can work from one power supply at same time. Dynamic option lets 2 hand-pieces share 80 W output power based on demand, promoting application flexibility and speed. SmartHeat™ Technology promotes responsive, controlled heating and delivers exact amount of energy needed to ensure precise, reliable solder connection. Simultaneous dual operation is supported by 4 hand-pieces and various soldering and rework cartridges.
---
Original Press Release:

OK International Debuts Metcal's MX-5200 Dual Simultaneous Rework Series



GARDEN GROVE, CA – OK International today announced the launch of the new Metcal MX-5200 Soldering, Desoldering and Rework Series, offering the same increased productivity and process control as the MX-5000 Series, now with dual-simultaneous ports.



The MX-5200 now features a dual simultaneous use option, meaning that two hand-pieces can work from one power supply at the same time. The dynamic option enables the two hand-pieces to share 80 watts output power based on demand, adding even more application flexibility and speed.



Supporting the MX-5200 Series simultaneous dual operation are four different hand-pieces and a comprehensive range of soldering and rework cartridges.  These include the Metcal Advanced™ Hand-Piece for SMD rework, a Metcal Ultra-Fine™ Hand-Piece for fine access, a Precision Tweezer capable of removing a range of components from 0201 chips to 28 mm SOICs, and a Desoldering Gun for safely removing through-hole components.



"The MX-5200 offers significant new capability to manufacturers looking for both power and flexibility," commented Gary Stoffer, OK International's Director of Global Marketing.  "The MX-5200, built upon SmartHeat™ Technology, ensures extremely responsive and highly controlled heating, delivering the exact energy needed to ensure a precise and reliable solder connection.  We are excited about the MX-5200 and additionally look forward to further product introductions in the coming year."



For more information about the new Metcal MX-5200 Soldering, Desoldering and Rework Series, visit www.okinternational.com.



About OK International



OK International is a leading global supplier of soldering tools and equipment for production assembly. The product range includes bench top soldering and desoldering tools, array package rework equipment, fluid dispensing systems and accessories, and fume extraction systems.



OK International is committed to understanding the product needs of its customers and supplies professional grade products that are innovative, reliable, price competitive and easy to use. Through a global sales channel, OK International provides expert product support and responsive customer service, with localization to meet regional market needs.



OK International, Inc. • 12151 Monarch St., Garden Grove, CA • 714-230-2366 • Web site: www.okinternational.com

More from Printing & Duplicating Equipment