Solder Masking Agent is safe for sensitive metal surfaces.
Press Release Summary: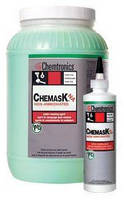 Engineered for applications to 550°F, Chemask® NA ammonia-free, temporary solder mask is suited for Pb-free or tin/Pb processes and compatible with gold, copper, nickel, silver, and OSP finishes. Non-contaminating, non-staining, and noncorrosive product can go directly into preheat oven and is completely compatible with all fluxes and cleaning solvents used in PCB manufacturing. Solution dries tack free in 15 min (10 mil thick application) and removes by hand without leaving residue.
---
Original Press Release:

Chemask® NA - Non-Ammoniated Solder Masking Agent - for All Sensitive Metal Surfaces



Chemask® NA, an ammonia-free, peelable, temporary solder mask is now available. It is formulated for a fast cure, safe use with sensitive metals, and is non-contaminating, non-staining and noncorrosive. Specifically engineered for high temperature applications (to 550°F / 288°C), this revolutionary product is ideal for lead-free or tin/lead processes, compatible with gold, copper, nickel, silver and OSP finishes, and can go directly into a preheat oven. As all of ITW Chemtronics temporary spot masks, Chemask NA is completely compatible with all fluxes and cleaning solvents normally used in PCB manufacturing. In addition, it is phthalate-free, has very low toxicity and is environmentally safe.

Chemask® NA Solder Masking Agent
The safest spot mask available for all sensitive metal surfaces

Stable to 550F (288 C) - withstands lead-free processing temperatures

Ideally suited for use with gold, copper, nickel, silver and OSP finishes

Works with both lead-free and tin/lead applications

Phthalate-free, low toxicity and environmentally safe

Compatible with all flux types and cleaning solvents

Dries tack free in 15 minutes (10 mil thick application)

Can be introduced into the pre-heat oven without being fully cured

Removes easily by hand and leaves no residue

Non-contaminating, non-staining and non-corrosive on all surfaces

RoHS compliant

CNA8 8 oz. Squeeze Bottle
CNA1 1 Gal. Liquid

More from Controls & Controllers