Solar Powered Message Center fits where space is limited.
Press Release Summary: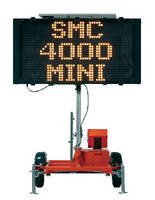 Powered by battery bank that is continually recharged by solar array, SMC 4000 Mast-Mini Solar Message Center displays messages on 48 x 96 in. panel and uses 4 LEDs per pixel to create uniform light output. Full-matrix system provides 250 text, 60 graphic, and 20 arrow board display messages, which are preprogrammed and stored in controller, as well as up to 100 user-created messages. For portability, center comes with industrial-grade 2 x 3 in., 11-gauge structural steel frame trailer.
---
Original Press Release:

Work Area Protection's New Energy-Efficient SMC 4000 Mast-Mini Solar Message Center Fits Where Space is Limited



GARLAND, TEXAS - Now available from Work Area Protection Corp. is the new energy-efficient, Precision Solar Controls SMC 4000 Mast-Mini Solar Message Center. The message center is designed for use in areas where space is limited and where larger signs cannot fit.

The solar message center is powered by a battery bank, which is continually recharged by a solar array. The SMC 4000 Mast-Mini battery bank is capable of operating independently of sunlight for 21 days. The solar panel array is designed to recover one day's power requirement in just 2-1/2 hours. The display provides minimal battery maintenance and long operational life.

The message center uses four, high-intensity, energy-efficient LEDs per pixel to create more uniform light output and the automatic intensity control provides optimum LED intensity.

The portable SMC 4000 Mast-Mini solar message center displays messages on a 48-inch by 96-inch panel and features an on-board dedicated user-friendly NTCIP-compliant controller that provides easy programming with secure password protection

The full-matrix message center provides 250 text, 60 graphic and 20 arrow board display messages preprogrammed and stored in the controller minimizing set-up time. The sign also has 100 user-created messages that can be programmed and stored. The sign provides variable character fonts with both 12-inch and 18-inch character heights. Users program messages using a specially designed computer that reduces the number of keys required to program a message. The computer features specific keys for standard functions as well as automatic message centering.

"The full-matrix SMC 4000 Mast-Mini Solar message center is an energy efficient message center that can be used in areas where space is limited," said David Wilfong, vice president, Work Area Protection, Precision Solar Controls Brand Products. "The compact design of this sign makes it a perfect sign for residential streets and municipalities."

The SMC 4000 Mast-Mini Solar message center comes with an industrial-grade 2-inch by 3-inch, 11-gauge structural steel frame trailer that features powder-coat paint to reduce fading and resists scratches. A 2,000-pound axle enhances the overall durability of the unit. Four leveling jacks with slide-out extensions provide stability when deployed.

The electronic components are easily replaced reducing downtime and maintenance costs, and the modular design improves the overall system diagnostics.

Several options are available with the SMC 4000 Mast-Mini Solar message center: a remote communication system, radar, tilting and rotating solar panels, increased autonomy or recharge capabilities, trailer brake systems, a pintle ring and combination hitch, 6-Volt battery bank and custom paint.

Work Area Protection offers a full line of solar powered products, including message centers and arrow boards. For more information on the new SMC 4000 Mast-Mini Solar Message Center, contact Precision Solar Controls Inc. at 2205 Hightower Drive, Garland, Texas 75041. Phone: 972.278.0553. Toll free: 800.686.7414. Fax: 972.271.9583. E-mail: sales@precisionsolarcontrols.com. Website: www.precisionsolarcontrols.com.

Please send inquiries to: David Wilfong, Precision Solar Controls, Dwilfong@precisionsolarcontrols.com, 2205 Hightower Drive Street, Garland, Texas 75041