Solar-Powered Lighting Bollards feature operational intelligence.
Press Release Summary: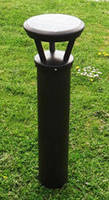 Used to guide pedestrian traffic and highlight landscapes, Solar-Powered Lighting Bollards integrate solar-powered lighting system from First Light Technologies and Energy Management System (EMS). Latter makes bollards intelligent and predictive, with self-learning capabilities that track and adapt to changes in weather patterns. Operating with mono-crystalline solar module, fixtures are composed of vandal- and damage-resistant polycarbonate and feature steel base and aluminum cap.
---
Original Press Release:

Reliance Foundry Launches Cutting-Edge, Solar-Powered Lighting Bollard



Reliance Foundry Co. Ltd., North America's premier supplier of bollards, custom castings and bike racks, announced today that it is increasing the functional reach of its bollard product line with the introduction of Solar-Powered Lighting Bollards. Used to guide pedestrian traffic and to highlight landscapes, lighting bollards provide illumination that increases safety and heightens a site's aesthetic appeal. In order to provide this illumination, Reliance Foundry has matched the trusted design integrity of its bollards with the innovative design of First Light Technologies' solar-powered lighting system. The result is a stylish and durable bollard that delivers cutting-edge light management technology.



"To be effective, solar-powered lighting systems must be durable, efficient and reliable;" says First Light Technologies Managing Director, Sean Bourquin, "The solar-powered LED light that we developed for Reliance Foundry's Lighting Bollard combines durable construction with an intelligent functionality that we believe will make it the industry leader."



Solar-Powered Lighting Bollards have long been used to brighten commercial walkways and highlight landscapes and architecture but Reliance Foundry's new solar-powered lighting bollards feature an intelligent functionality that makes them completely different. The intelligent functionality comes in the form of an Energy Management System (EMS) that makes the bollard both intelligent and predictive. A microchip in the EMS features self-learning capabilities that actually track and adapt to changes in weather patterns. The EMS maximizes the lighting bollard's performance on every site and even accommodates non-ideal installation conditions like partial shading. With their intelligent functionality, Reliance Foundry's solar-powered bollards actually predict weather patterns and then optimize light delivery accordingly. Intelligent use of energy limits battery drain and this increases the reliability of the solar-powered lighting bollard.



Lighting bollards by Reliance Foundry operate with a mono-crystalline solar module that is more efficient than multi-crystalline solar modules, and they provide a level of light volume that is unmatched in solar-powered bollards. They are crafted with the same expertise that has made Reliance Foundry the recognized leader in architectural bollards. Solar-Powered Lighting Bollards feature a base that is constructed of steel and a cap composed of aluminum. Both are finished with meticulous attention to detail and powder-coated to ensure an exceptionally long service life. The lighting fixture, itself, is composed of polycarbonate which makes it almost completely resistant to vandalism and elemental damage. Reliance Foundry's Solar-Powered Lighting Bollards are easily installed and available in two models that allow them to be either surface mounted with a flanged base or secured with castings or anchors to both concrete surfaces and security posts.



"Through our partnership with First Light Technologies, I believe we have created an unmatched solar-powered lighting bollard," says Reliance Foundry Sales Manager Rick Pasternak; "The intelligent, predictive and self-learning capabilities of this bollard are a big part of what makes these solar-powered bollards completely different from everything else on the market."



Three different lighting color options are available for Reliance Foundry's Solar-Powered Lighting Bollards and lighting distribution can be delivered in two patterns Solar-powered lighting bollards are easily installed and can be finished in six different colors. For specialized applications, corresponding models without solar-powered lights also offered at a reduced cost. Bike locking arms can also be affixed to solar powered bollards. Orders can be placed immediately for shipment in January 2013.



About Reliance Foundry Co. Ltd.



Reliance Foundry has been a family-owned business since 1927. Bollards are one of its main product lines, along with industrial wheels, bike parking products and investment castings. Reliance sources products globally and offers quick and convenient delivery in the United States and Canada from its Vancouver location.

Related