Solar-Powered LED Beacon is capable of 24/7 operation.
Press Release Summary: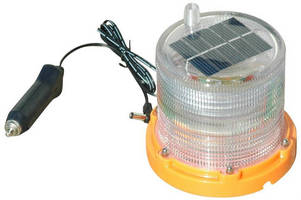 Offering built-in magnetic or permanent mounting base options, SLEDB-5-M LED strobe light incorporates solar panel and internal batteries. This 4 in. tall product, which can run endlessly on 4–5 hr of daily sunlight, is suited for use as warning or barricade light as well as other off-grid applications. If there is no sunlight for several days, operators can charge beacon via included 12 V vehicle charger.
---
Original Press Release:

Larson Electronics Magnalight Releases Solar Powered Rechargeable LED Beacon



Larson Electronics announced the release of their new SLEDB-5-M solar powered LED beacon.  Equipped with a small solar panel, internal batteries and a magnetic and permanent mounting base, this LED beacon is designed to run endlessly on 4-5 hours of daily sunlight.



Larson Electronics announced the addition of their new solar powered SLEDB-5-M LED beacon. Incorporating a small solar panel, rechargeable batteries and a choice of permanent and magnetic mounts, this compact beacon is ideal as a warning light or barricade light.  With minimal sunlight, operators can expect 24/7 performance from this four inch tall beacon.  This LED strobe lightcan be mounted permanently or magnetically, and both options are built in to the light.  In the event that there is no sunlight for several days, operators can charge the beacon with the included 12 volt vehicle charger. The SLEDB-5-M solar powered, battery operated beacon lists for under $70 and is ideal for off-grid applications, including traffic barricades, marine applications and oilfield markers.  Other applications include vehicle and equipment warning lights, when installing a standard beacon is inconvenient or unnecessary.



"While developing this new LED strobe light, we left one inside our building for 60 days, and with a bare minimum of sunlight exposure from windows in the room, it took nearly 43 days to exhaust the batteries," said Rob Bresnahan with LarsonElectronics.com."While we have battery operated LED strobes and 12/24 volt LED strobe lights, we really needed a rechargeable model to round out the line.  We had constant demand from oil rigs, construction crews and all manner of off-grid operators looking for solar powered beacons and the SLEDB-5-M meets their requirements with no solar panel installation requirement."



Larson Electronics produces a wide range of LED strobe lights, including explosion proof LED strobe lights, 120 volt strobes and 12/24 volt LED beacons.  You can see the entire range of LED strobing beacons at LarsonElectronics.com or contact 1-800-369-6671 (1-903-498-3363 international) or email sales@magnalight.com.

More from Software