Solar Impulse Efficient Solution Label Awarded to PearlAqua Deca™ for Profitability and Sustainability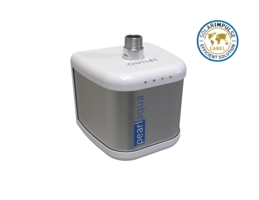 The Solar Impulse label is awarded to innovative products that show an adept economic profitability while also protecting the environment. AquiSense's PearlAqua Deca has been evaluated and awarded the Solar Impulse label. 
Erlanger, KY – AquiSense Technologies, the global leader in UV-C LED water disinfection technology, is proud to announce the PearlAqua Deca has been awarded the Solar Impulse label. The PearlAqua Deca is a UV-C LED water disinfection platform designed for Point-of-Entry applications and is the world's first product to utilize UV-C LEDs for this application. The PearlAqua Deca by AquiSense Technologies was attributed the "Solar Impulse Efficient Solution" Label following an assessment performed by external independent experts and based on verified standards. It is thereby joining the #1000solutions challenge, an initiative by the Solar Impulse Foundation to select solutions that meet high standards in profitability and sustainability and present them to decision-makers to fast-track their implementation. 
The PearlAqua Deca was thoroughly assessed by a pool of independent experts according to 5 criteria covering the three main topics of Feasibility, Environmental and Profitability. All labelled solutions are part of the #1000solutions portfolio that will be presented to decision-makers in business and government by Bertrand Piccard, Chairman of the Solar Impulse Foundation. The aim of this initiative is to encourage the adoption of more ambitious environmental targets and fast-track the implementation of these solutions on a large scale. 
The "Solar Impulse Efficient Solution" Label is one of the first labels for positive impact businesses bringing together protection of the environment and financial viability. This label serves as an award for clean and profitable solutions. 
About AquiSense Technologies 
AquiSense Technologies is the global leader in UV-C LED systems design and manufacture. They work with leading LED manufacturers to evaluate their devices and then design efficient disinfection products. Using a combination of patented technology and in-depth know-how, AquiSense integrates LED devices into products that solve real world problems in water, air, and surface applications. 
About Solar Impulse Foundation
The Solar Impulse Foundation aims to identify clean, efficient and profitable solutions in order to accelerate their implementation and the transition to a sustainable economy. Thanks to the awarding of a label with high standards of sustainability and profitability, the Foundation can support political and economic decision-makers in their efforts to achieve their environmental targets and encourage them to adopt more ambitious energy regulations, necessary for implementation at large-scale of these solutions in the market. A way to take the success of the first round-the-world solar flight further. 
Contact:
Mitch Hansen
Marketing Manager | AquiSense Technologies
www.aquisense.com | Tel: +1 859 869 4700
More from Fluid & Gas Flow Equipment