Solar Charging System will not over/undercharge batteries.
Press Release Summary: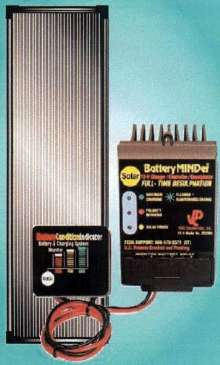 BatteryMINDer® Model SCC015 ensures batteries are not overcharged and automatically desulphates all lead-acid-based 12 V batteries in addition to series-connected 6 V types. System includes 15 W amorphous silicon solar panel, temperature compensated controller-charger-desulphator, Qwik connect-disconnect battery harness, and battery condition indicator. It is maintains up to 6 parallel-connected batteries or up to 4 group 31 batteries.
---
Original Press Release:
New Solar Charging System Breaks Price Barrier

Solar panels, strong enough to keep several large ampere-hour batteries fully charged for months or years, have typically cost hundreds of dollars. In spite of their high cost, these panels still needed additional charge controllers to prevent them from over and undercharging batteries. The cost of solar charging systems has prevented many recreational vehicle, boat, farm implement, and construction equipment owners from using solar charging systems to keep batteries in good condition during extended, non-use periods. They chose instead to replace batteries every few years, even though downtime, reduced performance and replacement costs exceeded initial solar system investment.

VDC Electronics' BatteryMINDer® series of solar charger-controller-desulphator systems have been designed to do more for less. In addition to ensuring batteries will not be overcharged, model SCC015 automatically desulphates all lead-acid-based 12 Volt batteries*, including sealed starter, deep cycle, AGM, marine, maintenance-free, gel and filler cap free electrolyte.

All BatteryMINDer® systems are supplied complete, including a high efficiency 15-watt-rated amorphous silicon solar panel, a temperature compensated controller-charger-desulphator, a Qwik connect-disconnect battery harness, and a battery condition indicator. The SCC015 will maintain up to six (6) parallel-connected batteries, including series connected 6 Volt deep cycle golf-cart-type.

According to Bill Woods, spokesperson for VDC: "Our systems start at less than $200 (average "street price" for the SCC015 BatteryMINDer® designed to maintain up to four (4) group 31 batteries) and do more to extend the life and performance of batteries than any comparable product we have ever tested".

All BatteryMINDer® products carry an unconditional one year guarantee** and a no hassle five (5) year warranty. MSRP for the SCC015 (15 watt system) is $199.95. VDC's complete line of BatteryMINDer® battery maintenance products are available from our nationwide dealers. For a list of dealers or additional technical information visit www.vdcelectronics.com or toll-free (800) 379-5579 (ET).

* Also series connected 6 Volt types

** Except for physical abuse
More from Materials