Data and Database Management Software
Software Toolset makes frequency measurements.
Press Release Summary: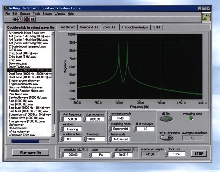 Sound and Vibration Toolset v2.0 for LabVIEW v6.0 provides functions such as zoom FFT, peak search, and power-in-band. It includes 30 application examples, including engine run up, pass by noise, frequency response, and orbit plots. Toolset builds on existing library of measurements and examples for audio, acoustic, and vibration applications. Tools perform simultaneous multichannel measurements and take advantage of multiprocessor computer capabilities.
---
Original Press Release:

New LabVIEW Toolset Extends Frequency Measurements for Sound and Vibration Applications


AUSTIN, Texas - June 25, 2002 - National Instruments extends the power of its LabVIEW development environment with a new version of the Sound and Vibration Toolset, which adds frequency measurements including zoom FFT, peak search, power-in-band, and more. The toolset simplifies custom sound and vibration application development for engineers and scientists.

The NI Sound and Vibration Toolset Version 2.0 also ships with more than 30 real-world LabVIEW application examples to help engineers and scientists get up and running quickly, including engine run up, pass-by noise, frequency response, and orbit plots.

The updated toolset builds on an existing library of measurements and examples typically used in audio, acoustic, and vibration applications. These tools perform simultaneous multichannel measurements, reducing development time in high channel-count systems. The new version takes advantage of today's multiprocessor computers, significantly improving system performance. For example, engineers and scientists using the updated toolset can perform real-time octave analysis on nearly twice as many channels in a dual processor computer than with a single processor computer.

Users can combine the toolset with LabVIEW and other NI products, such as the NI PCI-4472, a 24-bit, eight-channel simultaneous sampling acquisition board, to build applications to test against standards including ANSI and IEC. They can also integrate other measurements such as temperature, pressure, image acquisition, and motion control. Using the NI modular measurement platform, engineers and scientists can leverage the power of their PC to build high performance, low-cost sound and vibration applications. The Sound and Vibration Toolset Version 2.0 works with LabVIEW Versions 6.0 and higher (Full and Professional Development Systems).

About NI
NI leverages commercial technologies, such as industry-standard computers and the Internet, to deliver customer-defined measurement and automation solutions. Headquartered in Austin, Texas, NI has more than 2,900 employees and direct operations in 37 countries. NI increases the productivity of engineers and scientists worldwide by delivering easy-to-integrate software and modular hardware. In 2001, the company sold products to more than 24,000 different companies in more than 60 countries around the world. For the past three consecutive years, FORTUNE magazine has named NI one of the 100 best companies to work for in America.

Pricing and Contact Information
NI Sound and Vibration Toolset Version 2.0
Priced from $1,495; Euros2,095; ¥202,000
Visit ni.com/analysis
11500 N Mopac Expwy, Austin, Texas, 78759-3504
Tel: (800) 258-7022, Fax: (512) 683-9300
E-mail: info@ni.com

LabVIEW(TM) and NI(TM) are trademarks of National Instruments. Other product and company names listed are trademarks or trade names of their respective companies.

National Instruments
Corporate Headquarters; 11500 N Mopac Expwy; Austin, TX 78759-3504 USA; Tel: (512) 794-0100; (800) 258-7022 (U.S. and Canada)
Fax: (512) 683-9300; info@ni.com; ni.com
Branch Offices Worldwide

More from Services