Software provides 3D high-speed/high-frequency design.
Press Release Summary: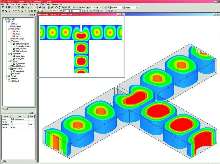 HFSS(TM) v9 for Sun Solaris® and HP/UX 64-bit OS provides installations with continued support for existing cluster of high-end UNIX 64-bit compute servers. It delivers cross-platform support between UNIX and PC hardware, enabling mixed environment of hardware within single corporate network. With precise electromagnetic-based design-flow automation, HFSS delivers design capture, analysis, and post-processing, all from single, intuitive desktop environment.
---
Original Press Release:

Ansoft Ships HFSS v9 for Sun Solaris and HP/UX


PITTSBURGH - Feb. 13, 2004 - Ansoft Corporation (NASDAQ: ANST) today released HFSS(TM) v9 for the Sun Solaris(R) and HP/UX 64-bit operating systems.*

HFSS v9 for UNIX(R) provides a number of larger installations with continued support for existing clusters of high-end UNIX 64-bit compute servers. As with all releases of HFSS, this version provides cross-platform support between UNIX and PC hardware, enabling a mixed environment of compute hardware within a single corporate network.

"The seamless cross-platform interoperability is important for UNIX-based HFSS users because they typically have a mixed compute environment including desktop PCs," said Brad Brim, Product Marketing Manager, HFSS. "This availability introduces cross-platform users to an entirely new level of electromagnetic-based design-flow automation."

Availability, Pricing and Upgrades:
HFSS v9 for UNIX is available immediately and starts at $41,900. The software includes a variety of training materials, such as Getting Started guides and a multimedia training CD. Product-upgrade training materials also are available for download from Ansoft's Online Technical Support (OTS) Web site or as an advanced-level training session at the 2004 HFSS Users Workshop in Los Angeles, California, February 19-20 (http://www.ansoft.com/hfworkshop04).

*Ansoft released the Windows(R)-based version of HFSS v9 in May 2003. See: "Ansoft Redefines High-Frequency and High-Speed Digital Design with the Introduction of HFSS v9" (http://www.ansoft.com/news/press_release/030528a.cfm).

About HFSS(TM)
HFSS is the industry-leading tool for 3D high-frequency and high-speed digital physical design. With its precise electromagnetic-based design-flow automation, the software provides unparalleled design capture, analysis and post-processing, all from within a single, intuitive desktop environment. Engineers use HFSS for radio frequency (RF), wireless, packaging and optoelectronic design. To learn more, visit www.hfss.com.

About Ansoft
Ansoft is a leading developer of high-performance electronic design automation (EDA) software. Engineers use Ansoft software to design state-of-the-art electronic products, such as cellular phones, Internet-access devices, broadband networking components and systems, integrated circuits (ICs), printed circuit boards (PCBs), automotive electronic systems, power electronics and fuel-cell technology. Ansoft markets its products worldwide through its own direct sales force and has comprehensive customer-support and training offices throughout North America, Asia and Europe. For more information, please visit www.ansoft.com.

CONTACT:
Ansoft Corporation
John Arnold
412-261-3200
Fax: 412-471-9427
arnold@ansoft.com