Software monitors exposure to environmental hazards.
Press Release Summary: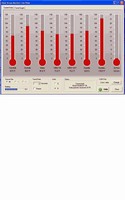 Designed to work with various noise monitoring devices, frequency analyzers, thermal comfort monitors, and occupational hand-arm and whole body vibration monitors, QuestSuite Professional II v2.8 records, charts, and analyzes exposure to occupational and environmental hazards. Software combines all acoustic data samples to present condensed graphs and tables, and logging of data tables allows averaging over user-selected time intervals.
---
Original Press Release:

Quest Technologies Releases Latest Version of QuestSuite® Professional II, V2.8



Oconomowoc, WI, October 5, 2006: Quest Technologies Inc, a world leader in the development and manufacture of monitoring instrumentation and software for occupational and environmental health & safety (OEHS) applications, proudly announces the new release of QuestSuite Professional II, V2.8, enhancing "The System Solution."

QuestSuite Professional II, when used in conjunction with our instruments, provides industrial hygiene and safety professionals with "The System Solution" for recording, reporting, charting and analyzing exposures to a multitude of occupational and environmental hazards. QuestSuite Professional II is specifically designed to work with our personal noise dosimeters, environmental and occupational noise monitors, sound level meters and real-time frequency analyzers, heat stress and thermal comfort monitors, and occupational hand-arm and whole body vibration monitors.

The latest version of QuestSuite Professional II has many exceptional benefits to the end user; it offers an array of sophisticated technology.

New and Improved Key Features:
o Supports the QUESTemp 34 & QUESTemp 36 Heat Stress and Thermal Comfort Monitors.
o Combines acoustic data samples to condense graphs and logged data tables which allow averaging over user-selected time intervals.
o Allows the ability to email directly from an error screen to Quest Technologies Technical Support.
o Increased speed of data deletion, exporting and importing of large data files.
o Allows user to easily export data to network drives.

For more information on QuestSuite Professional II and how you can benefit from "The System Solution", please visit Quest-Technologies.com/software/index.htm

About Quest Technologies
Quest Technologies Incorporated is one of the most widely recognized and respected names worldwide for safety & industrial hygiene instrumentation and software. We market our products through select independent distributors in over 50 countries worldwide. Our expertise is instrumentation and software and supporting calibration, rental and educational seminar services associated with monitoring and evaluation of occupational and environmental health & safety hazards. Our customers use our products in applications concerned with noise, human vibration, heat stress, thermal comfort, indoor air quality and toxic/combustible gas exposures. Our products are used extensively in military, mining, research, enforcement, insurance, consulting, educational, manufacturing, pharmaceutical, petrochemical, and sports medicine markets. Quest offers "The System Solution" to all your monitoring and data analysis requirements. For more information about Quest, please visit www.Quest-Technologies.com.

Contact:
Amy Hayden
Quest Technologies
Phone 262-567-9157
Fax 262-567-4047
ahayden@Quest-Technologies.com

More from Electronic Components & Devices