Miscellaneous Management Systems
Software monitors and controls fuel usage.
Press Release Summary: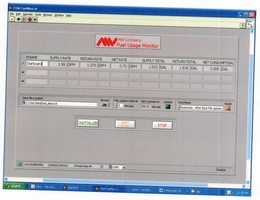 Software, used in conjunction with company's positive displacement flow meters and FEM-03 single-channel or FEM-03A2 dual-channel flow monitors, generates direct reading of net fuel consumption. It stores rate, net rate, total, and net consumption data - including column headings - to specified text file in TAB delimited ASCII format at customer selected time interval from 1-60 min. Date and time stamp is included with data at each update.
---
Original Press Release:

Fuel Usage Monitor Software by AW Company



With the rapidly increasing costs of fuel, it has become imperative to your bottom line that you monitor and control your fuel usage. The AW Company has released a fuel usage monitoring software that is used in conjunction with the AW Company positive displacement flow meters and the AW Company FEM-03 single channel or FEM-03A2 dual channel flow monitors. This software / metering package generates a direct reading of net fuel consumption.

The monitor software stores rate, net rate, total and net consumption data including column headings to a file at the customer selected time interval from 1 to 60 minutes. A date and time stamp is included with the data at each update. The data is stored to a customer specified text file in a TAB delimited ASCII format easily imported to an Excel or Access spreadsheet/database application. Customer specified program settings such as data filename and path, update time interval, total reset option, user defined engine labels and comm. port number are retained by the monitor program. The software is able to communicate with up to three FEM-03A2 dual channel monitors via RS232/RS485 serial connection.

This fuel system is easily adaptable to various fuel systems including compressors, diesel and gasoline engines and boiler systems. Applications range from energy generation to buses, cars and trucks to ships and locomotives.

For additional information please contact AW Company directly or visit our website:
http://awcompany.com/news.htm

For more information please contact:
Dawn Larson
AW Company, Marketing
Phone: 262-884-9800
Fax: 262-884-9810
Email: dadwnl@awcompany.com

More from Laboratory and Research Supplies and Equipment