Software lets users view plant data from any location.
Press Release Summary: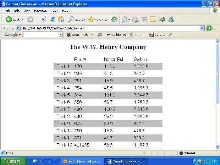 Compatible with any industrial device that runs on OPC v1.0 or OPC v2.0 compliant server, DataNet OPC(TM) Web-Presentation software utilizes OPC technology to display real-time plant data on web page. Data is then available for viewing, printing, or archiving on any computer, anywhere Internet or company intranet is accessible.
---
Original Press Release:

BizWareDirect Releases DataNet OPC(TM) Web-Presentation Software


CUMMING, Ga. - February 22, 2005 - BizWareDirect recently announced the release of DataNet OPC(TM), a new software product that keeps people connected to plant operations, without binding them to the confines of their facility. DataNet OPC uses OPC technology to display real-time data on a Web page, with no HTML programming required. Data is then available for viewing, printing or archiving on any computer, anywhere the Internet or company intranet is accessible. As an added benefit, DataNet OPC is able to offer a more unified approach to data display and logging, for plants that use multiple PLC brands.

"We have found that many plants are not loyal to one brand when it comes to purchasing hardware. They will go with whatever seems to be the most cost-effective solution at the time. This may lower the initial cost of operations, but it also increases the time and cost involved in integrating the data collection and display," says Joey Kulakowski, software engineer for BizWareDirect. "OPC technology allows us to provide easy and inexpensive data-collection and display for these companies, because it is supported by so many different devices."

DataNet OPC is compatible with any industrial device that runs on an OPC 1.0 or OPC 2.0 compliant server.

Kulakowski says that the inspiration for this product came from customers' expressed interest in being able to quickly and easily view plant data from any location. "Plant managers usually jump from one computer to another as they supervise different areas of the plant. By providing a Web interface, plant managers and other employees can easily view data from any computer in the plant," Kulakowski says.

Tony Holmes, purchasing specialist for The W.W. Henry Company, the nation's largest manufacturer of flooring adhesives, says that this convenience has saved money, improved production, and made the jobs of shipping managers, floor supervisors, production planners and plant managers in his Dallas, Ga. plant much easier.

"Before installing this program, we only had one reporting computer, located in the back of our plant lab. If there was a problem and someone had to check the tank levels, they would have to run back and forth until the issue was resolved. A lot of the information we were getting was wrong," Holmes says. "Now, anyone can get accurate information, right from their desk or work station."

Holmes says that DataNet OPC has pulled W.W. Henry's entire operation together, increasing the accuracy in batch making and raw materials inventory by eliminating 99 percent of the reporting error that was present before.

"I keep this information up on my computer all day long, so I always know exactly where our tank levels are. It has been a lifesaver for me and an asset to our plant. In our business, accuracy is key - misreadings are just too expensive," Holmes says.

The materials used to manufacture W.W. Henry's flooring adhesives, installation products and cleaners arrive to the plant in a tanker. If inaccurate readings have been reported and tank levels at the plant are too high to add raw materials when they are delivered, the plant runs the risk of overflowing its tanks. To avoid this, the company must pay to keep the truck carrying its materials steam-heated at a nearby truck stop until they can be redelivered. The cost of steam-heating itself is expensive, but the company must also pay to keep the driver and the truck overnight, and a redelivery fee is charged once the tank levels are down far enough for the driver to return with the shipment.

"On the other hand," Holmes says, "Misreadings that lead to the absence of needed materials will halt our production. It's even more expensive for me to have 30-some people standing here for an 8-hour shift, with nothing to do."

DataNet OPC eliminates the waste of resources by making industrial information available to those who need it. It empowers employees to stay in-sync with operations, and gives management unlimited access to important measurements, temperatures and other plant readings.

About BizWareDirect

BizWareDirect is a software-development firm that specializes in industrial data management. BizWareDirect offers affordable, easy-to-use software solutions that increase efficiency by making data more useful and more accessible to those who need it. For more information on BizWareDirect, or its complete collection of software products, please visit www.bizwaredirect.com, or call (770) 886-5878.

More from Materials