Software Kits simplify sound and vibration measurement.
Press Release Summary: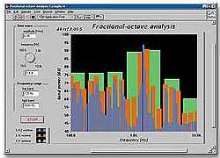 Sound and Vibration Toolkit v3.0 and Order Analysis Toolset v2.0 offer 65+ application examples and 80+ measurement functions. Tools can be used as foundation to develop applications; custom requirements can be added using program and analysis algorithms of LabVIEW graphical development environment. Toolkits work with NI dynamic signal acquisition devices, SCXI signal conditioning, FieldPoint, LabVIEW Real-Time software, and distributed I/O and data acquisition products.
---
Original Press Release:
New Versions of National Instruments LabVIEW Toolkits Further Simplify Sound and Vibration Application Development

NI Toolkits Simplify Sound and Vibration Development

NEWS RELEASE -- Sept. 23, 2003 -- National Instruments today announced two new versions of LabVIEW toolkits that give engineers the complete set of tools they need to perform simple and complex measurements for sound and vibration applications.

The Sound and Vibration Toolkit 3.0 and the Order Analysis Toolset 2.0 simplify the development of many sound and vibration applications -- including audio test; noise, vibration and harshness (NVH) test; and machine condition monitoring -- with more than 65 ready-to-run application examples and more than 80 widely used measurement functions. Design and test engineers can use these tools as a foundation when developing their applications and then finalize custom requirements using the programmability and analysis algorithms of the LabVIEW graphical development environment.

Complementing its collection of tools for sound level measurement, frequency, transient and fractional-octave analysis, the Sound and Vibration Toolkit 3.0 features new audio measurements based on industry standards, such as AES, SMPTE, DIN, ITU and CCIF. Examples of these new audio measurements include IMD, SFDR and Crosstalk. Engineers can use the audio measurements in most multimedia, swept-sine for dynamic signal acquisition (DSA) and data acquisition applications. The new version of the toolkit also includes 10 audio test application examples, limit testing capabilities and an enhanced swept-sine function that is faster and easier to use.

The Order Analysis Toolkit 2.0 expands standard order analysis functionality to include order extraction, order tracking and tachometer signal processing for machine condition monitoring and noise, vibration and harshness testing. The toolkit gives engineers online order analysis for real-time order tracking and order extraction, flexible order spectrum selection for more options to view data, enhanced data presentation for developing easy-to-use applications and tacholess signal processing.

These two new toolkits work with NI dynamic signal acquisition devices, SCXI signal conditioning, FieldPoint, LabVIEW Real-Time software and distributed I/O and data acquisition products.

About National Instruments

National Instruments (www.ni.com) is a technology pioneer and leader in virtual instrumentation -- a revolutionary concept that has changed the way engineers and scientists approach measurement and automation. Leveraging the PC and its related technologies, virtual instrumentation increases productivity and lowers costs for customers worldwide through easy-to-integrate software, such as the NI LabVIEW graphical development environment, and modular hardware, such as PXI modules for data acquisition, instrument control and machine vision. Headquartered in Austin, Texas, NI has more than 3,000 employees and direct operations in 40 countries. In 2002, the company sold products to more than 25,000 different companies in more than 80 countries around the world. For the past four consecutive years, FORTUNE magazine has named NI one of the 100 best companies to work for in America. Readers may obtain investment information from the company's investor relations department at (512) 683-5090, by sending e-mail to nati@ni.com or on the Web at http://www.ni.com/nati.

Pricing and Contact Information

Sound and Vibration Toolkit 3.0

11500 N Mopac Expwy, Austin, Texas 78759-3504

Tel: (800) 258-7022, Fax: (512) 683-9300

Web: www.ni.com/soundandvibration E-mail: info@ni.com