Software helps control process controllers.
Press Release Summary: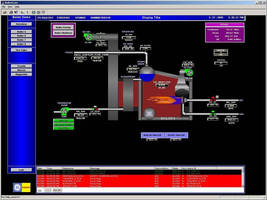 Including Proficy Alarm Viewer, Proficy® Process Systems v1.6 provides alarm line formatting, filtering, and sorting capabilities. Audible alarms capability that annunciates alarms based on users configured rules. Software supports PAC8000 process controllers and PACSystems Redundant RX3i controllers. Other features included are process control function blocks, and visualization faceplates. Suitable applications include in oil and gas, power and utilities, and mining industries.
---
Original Press Release:

GE Fanuc Intelligent Platforms Launches Latest Version of Proficy® Process Systems for Fully Integrated Process Control



New version adds support for PAC8000 process controllers and PACSystems Redundant RX3i

Charlottesville, VA, August 5, 2009 GE Fanuc Intelligent Platforms, a unit of GE Enterprise Solutions, today announced that it has released the latest version of its process control system: Proficy® Process Systems - Version 1.6. Proficy Process Systems is a fully-integrated process control system that, based on its flexible configuration, architecture and choice of controller platforms, can provide customers in different industries with an advanced DCS or hybrid process control system to meet their specific needs. These systems will improve operational performance and productivity and provide customers with a sustainable advantage for their business.

Proficy Process Systems 1.6 continues to enhance the overall system architecture by adding the support of the PAC8000 process controllers and the PACSystems redundant Rx3i controllers. Customers in industries such as Oil & Gas will benefit from GE Fanuc's DCS system - Proficy Process Systems with the PAC8000 family of controllers.

PAC8000 Controllers can go where other controllers often cannot. They can incorporate optional intrinsic safety for hazardous area applications, and they can be field mounted and subjected to extreme temperatures and corrosive atmospheres when required. Features of the PAC8000 include the following:

o -40°C to +70°C operating range

o ISA Level G3 corrosion

o 30G shock and 5G vibration

o Operation in Class I, Division 2 and Zone 2 hazardous areas with field wiring extending into Division 1 and Zone 1/0 areas

PAC8000 controllers can pass HART information from smart field devices to a computer running device asset management software, allowing for remote maintenance and calibration. HART data and diagnostics can also be used directly in control applications, reducing commissioning time, process downtime and loop maintenance costs.

With the support of PACSystems Redundant Rx3i controllers, Proficy Process Systems provides a High Availability architecture for our customers in industries such as Food & Beverage who will benefit from the discrete, batch, and process capabilities that the PACSystems controllers provide.

"GE Fanuc continues to provide advanced technology platforms that give our customers the freedom and flexibility to choose their visualization technology - iFIX or CIMPLICITY, and their controller platform - PAC8000 or PACSystems," said Kam Yuen, GE Fanuc Intelligent Platforms' Product Manager for Proficy Process Systems. " This flexibility is very attractive to companies in Oil & Gas, Water / Wastewater, Power & Utilities, Mining, Ethanol, Food & Beverage, Boilers, Data Centers and Chemicals.

"Together with the three new levels of Proficy Process Systems (Premier, Standard, Process Edition) available with this release, this platform offers the ultimate flexibility in terms of architectures, capabilities, and purchasing options that will allow customers to truly design a system to meet their needs," he continued.

Included with Proficy Process Systems 1.6 is the new Proficy Alarm Viewer that provides advanced alarm line formatting, filtering, and sorting capabilities. It also has an audible alarms capability that annunciates alarms based on the users configured rules. Proficy Process Systems 1.6 also includes new process control function blocks, enhanced visualization faceplates with new look and feel, and new ease-of-use features that enhance the overall usability of the system.

For more information, gefanuc.com/process.

About GE Enterprise Solutions

GE Enterprise Solutions elevates customers' productivity and profitability with integrated solutions using sensors and non-destructive testing; security and life safety technologies; power system protection and control; and plant automation and embedded computing systems. Enterprise Solutions' high-tech, high-growth businesses include Sensing & Inspection Technologies, Security, Digital Energy, and GE Fanuc Intelligent Platforms. The business has 17,000 problem-solving employees in more than 60 countries around the world.

About GE Fanuc Intelligent Platforms

GE Fanuc Intelligent Platforms, a joint venture between General Electric Company (NYSE: GE) and FANUC LTD of Japan, is an experienced high-performance technology company and a global provider of hardware, software, services, and expertise in automation and embedded computing. We offer a unique foundation of agile, advanced and ultra-reliable technology that provides customers a sustainable advantage in the industries they serve, including energy, water, consumer packaged goods, government & defense, and telecommunications. GE Fanuc Intelligent Platforms is a worldwide company headquartered in Charlottesville, VA and is part of GE Enterprise Solutions. For more information, visit www.gefanuc.com.

For more information contact:

Ian McMurray

GE Fanuc Intelligent Platforms

t: +44 (0) 1327 322821

e: [email protected]

Elli Holman

GE Fanuc Intelligent Platforms, Public Relations Manager

t: +1 508 698 7456

m: +1 508 298 8306

e: [email protected]