Software/Hardware Package optimizes solder paste inspection.
Press Release Summary: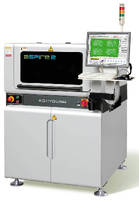 Developed to meet speed and accuracy demands of electronics manufacturers, aSPIre-2 optimizes printing process and stops printing problems before they become soldering defects downstream. Fully automated system delivers true, reliable data and SPC analysis at inline speed, with no false calls and no escapes in effort to increas yields and produce throughput with minimal touch-up and rework. Features include SPC Plus analytical tools, 4-axis projection, and 3D volume measurement.
---
Original Press Release:

Koh Young Introduces aSPIre-2 - Maximum 3D SPI Performance - at IPC/APEX 2009



Seoul, Korea - Koh Young Technology will unveil their next generation solder paste inspection (SPI) and process optimization tool, the aSPIre-2, at IPC/APEX 2009 in Las Vegas. The aSPIre-2 has been developed to meet increasing demands for speed and accuracy from electronics manufacturers, and is presented as a significant process optimization tool. With aSPIre-2, the customer will optimize the printing process and stop printing problems before they become soldering defects downstream, for higher yields and throughput, less touch-up and rework.

The new fully automated system offers the highest levels of performance and the most innovative features of any competitive system available in the industry today.

aSPIre-2 builds on the capabilities and success of the popular aSPIre system, but is faster and delivers higher performance, offering more features and unique capabilities. Koh Young Technology is the first and only SPI systems supplier to bring patented 3D inspection technology to the industry with aSPIre and other Koh Young inspection systems.

In making the announcement, Dr. Kwangill Koh, CEO, said "We challenge anyone - anywhere - to compare the features and performance of our new system with the very best competitive system. Our aSPIre-2 is far out in front of the pack; there are no truly comparable or competitive systems, actually, and we are happy to prove it."

Dr. Koh continued to say that the new aSPIre-2 goes beyond the classification of SPI. "This is a process optimization system of the highest order" he said, "giving today's user the ability to meet the challenges of today's and tomorrow's manufacturing demands."

aSPIre-2 is a fully automated in-line SPI system that delivers 100% 3D Inspection of solder paste with unmatched speed and camera accuracy. Its powerful SPC Plus analytical tools and hardware combine to deliver a level of process optimization designed for high-throughput environments where best first-pass yields and zero defect manufacturing are demanded. Its powerful hardware/software package delivers true, reliable data and SPC analysis fast - at unmatched in-line speed, with no false calls and no escapes.

aSPIre-2 features and performance capabilities include the industry's highest processing speed - up to 50% faster; 4-axis projection for ultimate speed and accuracy; true patented 3D volume measurement; short programming time; greater configurability and flexibility; enhanced PCB warpage compensation; more powerful, full-featured SPC Plus and user interface; and no PCB color sensitivity.

About Koh Young Technology
Koh Young Technology specializes in the design and manufacturing of 3D measurement and inspection equipment for the global circuit board assembly and semiconductor market, including solder paste inspection. Direct sales and support centers are located in the United States, Europe, Japan, Singapore, China (Shenzhen) and Korea. For more information about the company, visit : www.kohyoung.com, or contact the company at Koh Young technologies Inc. F14, ACE Techno X, 470-5 Gasan-dong, Geumcheon-gu, Seoul, Korea (153-789), Tel. 82-2-6670-5000, Fax 82-2-6670-5001, E-mail: info@kohyoung.com.

More from Optics & Photonics