Software gives users control of material purchasing.
Press Release Summary: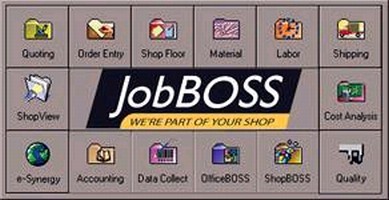 JobBOSS® 9 facilitates material control, purchasing, and cash flow. It helps purchasing staff optimize purchasing material efficiency and minimize interruptions to check on status of material ordered. Staff can also keep up with changes to job, assure materials are available when required by floor, communicate with shop floor, and meet ship dates.
---
Original Press Release:

Exact Software Announces Release of JobBOSS 9



Latest version provides significant enhancements to material control, purchasing and cash flow See it along with the Joe Gibbs Racing Interstate Battery Car (#18) at IMTS 2006, September 6-13 in Chicago, IL

Minneapolis, Minnesota - June 23, 2006 - Exact Software(TM), a leading provider of solutions that connect the people, processes and knowledge essential to an organization, today announced the latest release of the industry leading shop floor manufacturing software - Exact JobBOSS® 9. This release focuses on enhancing the functionality of material control, purchasing and cash flow for the purchasing staff in the shop.

JobBOSS 9 features help the purchasing staff improve purchasing material efficiency and reduce interruptions to check on the status of material ordered. In addition, the purchasing staff can also keep up with changes to the job, assure materials are available when required by the floor, improve communication with the shop floor, and meet ship dates.

"JobBOSS 9 provides customers with improved visibility, flexibility and change management." said Steve Massey, general manager for Exact JobBOSS. "By upgrading to version 9, JobBOSS users will experience greater control of material purchasing and issues. All of which helps users improve efficiency throughout their shop operations, leading to improved customer service and reduced operating expenses."

Exact JobBOSS is also proud to announce that the Joe Gibbs Racing Interstate Battery Car, #18, will be on hand at the Exact JobBOSS booth at IMTS 2006. Exact JobBOSS is an official product sponsor of Joe Gibbs Racing. Visit Exact JobBOSS at IMTS 2006 (booth #D-3127) to talk with JobBOSS representatives or call 800-777-4334 for further details on JobBOSS 9.

Exact JobBOSS is the leader in shop management software for job shops, small to medium-sized make-to-order, engineer-to-order, contract and mixed-mode manufacturers, and has maintained that leadership standing since it was originally developed in Minneapolis, MN in 1984. JobBOSS has nearly 4,000 customers and 21,000 users worldwide who benefit from the control JobBOSS gives them to easily manage all of the changes their shop experiences on a daily basis. For further information on Exact JobBOSS, please visit exactamerica.com/jobboss.

About Exact Software(TM)
Established in 1984, Exact Software is one of the world's leading providers of business software solutions. Its integrated solutions comprise traditional Enterprise Resource Planning (ERP) as well as related software solutions such as Human Resource Management (HRM), Customer Relationship Management (CRM), Project Management, Business Intelligence/Analytics (BI/BA), and Electronic Workflow.

Exact is headquartered in Delft, the Netherlands and has offices in Europe, the Middle East, North and South America, Asia, Australia and Africa. With over 2,700 employees, subsidiaries in more than 40 countries, solutions available in 40 languages, Exact currently serves customers in more than 125 countries across all five continents. Exact Holding N.V. (EXACT) has been listed on Eurolist by Euronext Amsterdam since June 1999.

Exact Software North America is a division of Exact Holding N.V. and has its headquarters in Andover, Massachusetts. Exact Software North America is responsible for the management, development, marketing, sales, and services associated with Exact's e-Synergy®, Globe Enterprise(TM), Macola® ERP, JobBOSS®, MAX®, Alliance®, and Vanguard Business Analytics(TM) brands in the United States and Canada. For more information, please visit: exactamerica.com.

Exact Software, Macola, e-Synergy, Globe Enterprise, JobBOSS, MAX, Alliance, Vanguard Business Analytics, and Exact Business Analytics are trademarks or registered trademarks of Exact Holding N.V. and/or its subsidiaries in the U.S. and/or other countries.

Company Name: Exact JobBOSS
Address 1: 7701 York Avenue South, Suite 350
City: Minneapolis
State: NE
Zip: 55435-5832
Country: US
Phone: 800-777-4334
URL: exactamerica.com/jobboss

Contact Name: Michelle Schindler
Title: Marketing Communications Manager
E-mail: michelle.schindler@exactsoftware.com

More from Optics & Photonics