Information Management Systems
Software facilitates online store maintenance, management.
Press Release Summary: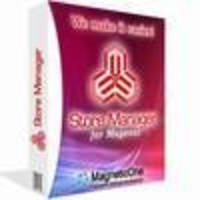 Store Manager for Magento aids in effecient management and customization of Magento-based online stores. Specifically, functionality helps online merchants manage products, categories, attributes, and other data. Categories, products, attributes, and customers may be added, edited, and deleted at will, and navigation features with search options and multiple filters facilitate act of finding products. Also, users can view orders and reports as well as track customer orders.
---
Original Press Release:

MagneticOne Releases Long-Awaited Store Manager for Magento for Convenient Store Management



MagneticOne, software development company that deals with all aspects of e-commerce, is proud to announce the release of Store Manager for Magento today. This is a unique application, which makes management and customization of Magento-based online store more convenient and effective.

Store Manager for Magento was created for online merchants to make store management easier, more effective and less time-consuming. Magento shopping cart rapidly gains popularity among the customers and, for now, is one of the most frequently downloaded shopping carts. Store Manager for Magento helps online store to stand out against the number of others and increases the efficiency of Magento shopping cart.

Features of this application are numerous. Store Manager for Magento helps store owners to manage products, categories, attributes and other data more effectively. This application allows the user to add, edit, delete categories, products, attributes,and customers in timely manner.Easy product navigation allows the user to search for products with the help of advanced search options, multiple filters, etc. It enables the user to view orders and reports, to track customers' orders, etc. Аll changes are applied to online store instantly. Store Manager for Magento is everything online retailer needs to keep the store fresh and up-to-date, always.

Store Manager for Magento has easy-to-use interface, which makes it quite easy and convenient for the user to work with this application. Store Manager provides multilingual support and number of reporting tools, which help online merchants to keep track of various aspects of online store. This is a great tool for multiple stores management. It enables the user to manage multiple stores easily and switch between them. Thus, this software helps online store owner to handle multiple tasks in a short period of time and automate routine ones.

This software has been created by team of professionals taking into consideration the feedback of other similar applications in order to guarantee even better and more stable performance of the software. Investing in Store Manager for Magento online retailers actually make an investment into the efficiency of their business. Management and customization of online store is much easier with Store Manager for Magento.

MagneticOne is an innovative software development company, concentrated on all aspects of e-commerce. The main office is located in Ternopil, Ukraine. MagneticOne was founded by Ruslan Savchyshyn, an independent software engineer. This company creates store managers and modules for different shopping carts (osCommerce, CRE Loaded, X-Cart, Zen Cart, Pinnacle Cart, Magento) to make marketing process more efficient and less time consuming. For more information, visit www.mag-manager.com

More from Software