Software facilitates high dynamic range imaging.
Press Release Summary: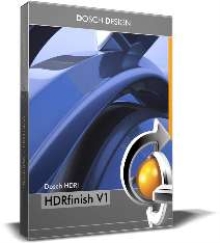 HDRfinish V1 enables HDRI viewing, file type conversion, and professional editing. It supports creation of HDR-images by turning multiple 24-bit pictures from controlled exposure-variation series into one High Dynamic Range image. Users can change exposure and Gamma values of HDR images; rotate, mirror and crop images; adjust image size with integrated Interpolation and Anti-Aliasing feature; and load, save, and print standard HDI formats as well as LDR formats.
---
Original Press Release:

Dosch HDRI: HDRfinish V1


HDRfinish V1 is an easy-to-use productivity tool for HDRI viewing, file-type conversion and professional editing.

Many areas of professional image design and editing are nowadays heavily dependent on the use of the advanced picture format HDRI (High Dynamic Range Image). Whether it is as a light-source or illumination technique in 3D-scenes (Image Based Lighting), in photography, or in documentations, the additional dynamic range of the HDR-images provides the designer with a superior degree of technical and artistic options.

With HDRfinish V1 there is finally a tool which unlocks these powers for a broad audience.

The conversion between the various HDR panoramic formats (e.g. Spherical Map, Light-Probe, Horizontal Cross, Vertical Cross) represents an important function of HDRfinish V1. From now on users can convert any HDRI into the desired panoramic format - and do so while maintaining unusually high picture quality. The times of trying to render a 3D-scene with a less-than-optimal panorama format are over.

Dosch Design's HDRfinish V1 program supports creating ones own HDR-images by turning multiple ordinary 24-bit pictures (e.g. from digital camera, scanner) from a controlled exposure-variation series into one High Dynamic Range-image.

Feature Overview:
o Load, Save and Print standard HDI-formats (hdr, open-exr, pfm), as well the standard LDR-formats (24-bit picture format) like BMP, TIF and JPG
o High-performance viewer with Alpha-blending, zoom interpolation and straight-forward navigation for hassle-free use
o Changing Exposure & Gamma-values of HDR-image
o Panorama conversion of all standard formats (Lightprobe, Spherical Map, Horizontal Cross, Vertical Cross, etc.)
o Image size adjustment with integrated, high-quality Interpolation and Anti-Aliasing feature
o Image cropping
o Image rotation & image mirroring (flip)
o Producing an HDR from a specific exposure series (e.g. BMP, JPG, TIF sequence)
o Filters for sharpness/blurriness control
o Combining 6 individual images (cube view) to a Horizontal Cross
o Pasting/adding of picture elements using Alpha-mask (e.g. replacing of floor/tri-pod in panoramic images)
o Working with LDR-formats (classic 24-bit picture format) at the same quality level and the same dynamic range as HDR-images
o Saving of the current dynamic range of an HDRI as a Low Dynamic Range Image

The product distinguishes itself through its user-friendliness and the attractive price/performance ratio.

Dosch HDRI: HDRfinish V1 is compatible with Windows computers and is priced at 119.00 USD / 99.00 EUR.

Link to Dosch Design: www.doschdesign.com

Direct link to the product:
http://www.doschdesign.com/products/hdri/HDRfinish_V1.html

About Dosch Design
Dosch Design (www.doschdesign.com) offers computer graphics products for 3D design, advertising, print materials,
3D animation and multimedia presentations. Dosch Design is dedicated to providing finely detailed, high-quality products at an attractive price. Product ranges include complete 3D models (Dosch 3D), surface materials (Dosch Textures), high dynamic range images (Dosch HDRI), 2D objects for visualization (Dosch VizImages), layered images (Dosch LayerFX), animated movie sequences (Dosch Movie-Clips), and music and sound effects (Dosch Audio).

Contact-Information:
Europe
Dosch Design GmbH
Attn: Sebastian Dosch
Gotthard-Schuell-Str. 14
97828 Marktheidenfeld - Germany
Phone +49-(0)9391-91 58 53
Fax +49-(0)9391-91 58 54
Email: info@doschdesign.com
Web www.doschdesign.com

USA
Dosch Design US Shipping Ctr.
Attn: Harald Dertinger
603 Ruskin DR
Altoona, PA 16602 - USA
Tel / Fax: 1 (866) 3D-DOSCH (Toll-free from US/Canada)
Tel / Fax: +1 (814) 943-2807 (international)
Email: infoUSA@doschdesign.com
Web www.doschdesign.com

More from Electrical Equipment & Systems