Software enables e-business messaging and conferencing.
Press Release Summary: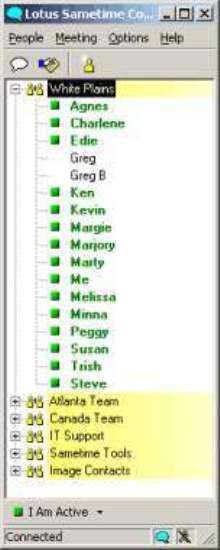 Lotus® Sametime® instant messaging and Web conferencing offering, available on UNIX® platform, enables users to share information, make decisions, and work together in real-time. It offers IBM Lotus Notes® calendar and scheduling integration with support for maintaining meeting attendee roster and secure meetings. Software also offers control of attendee awareness states and provides support for audio/video tunneling on port 80.
---
Original Press Release:

IBM Lotus Instant Messaging and Web Conferencing V3.1 (Lotus Sametime) for UNIX Enables e-business


December 2, 2003

At a glance

Lotus Sametime, IBM's instant messaging and Web conferencing offering for e-business, is now available on the UNIX® platform.

For ordering, contact:

Your IBM representative, an IBM Business Partner, or IBM Americas Call Centers at 800-IBM-CALL (Reference: SE001).

Overview

Lotus® Sametime® is IBM's market-leading platform for instant collaboration. More than 9 million people use it every day to share information, make faster decisions, and work together in real time. Engineered from the beginning to be a tool for e-business, it is more robust, secure, and manageable than any competitive offerings.

Any organization that needs to increase its productivity, be more efficient, work faster, reduce travel budgets, integrate real-time collaboration into Web applications, or increase its agility will benefit from using IBM Lotus Sametime.

What's New in V3.1

Citrix Metaframe XP support

Reverse proxy support

IBM Lotus Domino(TM) 6.0.2 and 6.0.3 support

Support for integration with IBM Lotus Team Workplace (QuickPlace(TM)) 3.0.1

IBM Lotus Notes® calendar and scheduling integration with support for maintaining a meeting attendee roster and for secure meetings

Meeting participant control of their awareness state (for example, Do Not Disturb) from within the meeting room center

Support for audio/video tunneling on port 80

Enhanced Diagnostic Connectivity Agent for meeting participation (test meeting)

Selection for default log-in status in the Connect client

Administrator setting to enable fixed window location and size option for chats

Administrator option for default connectivity settings for Sametime Connect for browsers

Enlarged Buddy List limit, from 32K to 60K with a new option for local Buddy List storage

Exhaustive search in "Add user" across multiple directories

Sametime connect for browsers in a "kiosk" mode where no local storage is available

SIP gateway for community to community interoperability of awareness and chats with a new icon to indicate an external contact in the buddy list

Updated Sametime Links (STLinks), C++ Client, Java(TM) Client, and Sametime Server Toolkits including a Telephony Provider "Plug-in" capability for the Sametime client

Performance upgrades for the STLinks server applications

Persistent links in STLinks for faster navigation in Sametime enabled web applications

Polish and Russian languages available

Refer to Software announcement 203-225 , dated September 9, 2003

Key prerequisites

Server operating systems:

IBM pSeries® (AIX®), V5.1 and V5.2

Sun Solaris operating environment, V8 and V9

IBM OS/400®, 5722SS1, V5.1, or later

Microsoft(TM) Windows(TM) 2000 Server, or Windows Advanced Server with Service Pack 3

Planned availability dates

November 28, 2003: Electronic software delivery

December 19, 2003: Media and documentation


More from Software