Software delivers process analytical technology solution.
Press Release Summary: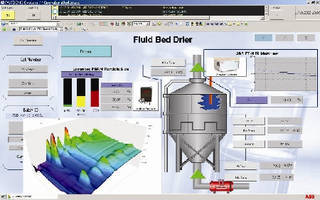 Designed for use with any process automation solution, Industrial IT eXtended PAT promotes integration of analytical measurements into manufacturing process to optimize product development, quality, and safety of end product. Program combines process data collection and analysis with traditional process control and data management. In addition to host of resident analyzer drivers, xPAT utilizes OPC/UA interface to provide connectivity to virtually every other analyzer available.
---
Original Press Release:
ABB Announces Industrial IT eXtended PAT
Next generation PAT application leverages System 800xA environment to simplify engineering and integration with enterprise systems Baltimore, Maryland, January 26, 2009 - ABB announced today that it has released its Industrial IT eXtended PAT (process analytical technology) software. The latest generation of ABB's PAT solutions, xPAT provides simplified engineering and streamlined integration with enterprise systems, as well as broad connectivity to a host of analyzers to help customers achieve continuous process improvement, real-time product release and Quality by Design. (QbD). ABB will feature xPAT at the annual IFPAC (International Foundation of Process Analytical Chemistry) meeting this week in Baltimore. "This new release underscores our ongoing commitment to helping our customers realize the full operational and quality benefits available from implementing PAT in their manufacturing process," said Thomas Buijs, ABB Product Marketing Manager." xPAT delivers the ease of use and integration benefits resident in the 800xA architecture to provide the industry's most complete and easy to use PAT solution. It provides our customers with the power to significantly improve their overall process, streamline their development and release schedule, and achieve Quality by Design." As a leading-edge quality control concept in the biopharma industries, PAT has increasingly gained worldwide acceptance as a proven method of ensuring product safety and quality by many industry experts. It promotes the integration of analytical measurements into the manufacturing process to streamline and improve new product development as well as improve the quality and ensure the safety of the end product. With its powerful integration capabilities and functionality, xPAT helps life science industry customers implement quality by design throughout the entire pharmaceutical product lifecycle, from drug discovery through development to production. xPAT combines process data collection and analysis with traditional process control and data management functions to produce a complete PAT solution in a single system. This standalone product is designed for use with any process automation solution, including System 800xA, as well as non-ABB DCS systems. Built on the System 800xA foundation, it harnesses System 800xA's single operations and engineering environment to provide ease of engineering though one standard system interface and a designated PAT engineering workplace. It also leverages System 800xA's integration capability to interface with external systems and applications throughout the manufacturing enterprise, such as LIMS, MES and other vital systems for real-time access to information from all points in the manufacturing process. This integration capability provides expanded modeling functionality with modeling tools at the analyzer, unit operation and process levels, including support for batch modeling and integration of the Umetrics SBOL (SIMCA-Batch On-Line) batch monitoring tool. xPAT provides additional analyzer support, enhanced visualization, advanced data mining and analysis capabilities to make it an even more powerful and scalable process solution. In addition to its host of resident analyzer drivers, xPAT utilizes the standard OPC/UA interface to provide connectivity to virtually every other analyzer available today. ABB is a key driver in developing the OPC/UA Analyzer Device Integration (ADI) initiative to provide seamless information transfer and a standard data exchange model for complete analyzer control. An industry-specific application built on the innovative System 800xA infrastructure; xPAT is a next generation PAT solution that harnesses the 800xA operations and engineering environment and integration capability to provide customers with significant improvements in the overall process and end product quality. It provides life sciences customers with a single system to access and examine online, real-time process data directly from the manufacturing operation. This configurable, windows-based system collects data from ABB and/or third-party vendor's analytical instruments and analyzes the data to determine the actual condition of the process. It then passes the resulting information to the ABB or third party control system, and to other applications that support the drug manufacturing process. For further information please see us on the web at www.abb.com/lifesciences and abb.com/analytics . ABB (www.abb.com) is a leader in power and automation technologies that enable utility and industry customers to improve performance while lowering environmental impact. The ABB Group of companies operates in around 100 countries and employs about 120,000 people.