Software delivers CNC machine simulation and optimization.
Press Release Summary: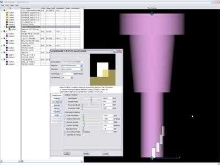 VERICUT v6.0 simulates CNC control G-code programs to provide virtual machining environment, and simulates CNC machining to detect errors, collisions, or areas of inefficiency. With project tree, users can view and configure multiple setups. Once user selects CNC machine configuration, stock, fixture, and design component information is attached to machine, ready to simulate machining operations. Export option allows export of native CATIA V5, ACIS SAT, and STEP models.
---
Original Press Release:
CGTech to Showcase VERICUT 6.0 at EMO 2005

(Irvine, CA - Thursday, July 14, 2005) - CGTech will preview VERICUT(r) Version 6 CNC machine simulation and optimization software at stand E74, Hall 15 at EMO 2005 in Hannover, Germany, September 14-21.

VERICUT 6.0 features several enhancements designed to increase the ability of manufacturing engineers to simulate the entire CNC machining process in order to produce better results and reduce the time spent in the programming and machining cycle.

VERICUT Product/Function Overview:

VERICUT simulates CNC machining to detect errors, collisions or areas of inefficiency. VERICUT enables NC programmers to reduce or eliminate prove-outs, reduce errors, and increase CNC machining efficiency. VERICUT reduces scrap loss and rework and also optimizes NC program feed rates to reduce cycle times, increase cutter life and produce higher quality surface finishes. VERICUT simulates CNC control G-code programs directly to provide a virtual machining environment. VERICUT simulates all types and configurations of CNC machine tools, including those from leading manufacturers such as Mazak, Makino, Matsuura, Hermle, DMG, DIXI, Mori Seiki and Chiron. VERICUT runs standalone, but can also be integrated with leading CAM systems such as Catia V5, Unigraphics, Pro/Engineer, MasterCAM and EdgeCAM.

Multiple Setups in a Single Session

VERICUT Version 6.0 allows the user to view and configure multiple setups using the new project tree. Each setup has its own CNC machine, fixtures, tools, NC programs, and simulation settings. The cut stock can move from setup to setup, with automatic orientation. Once a user selects the CNC machine configuration, the stock, fixture and design component information is attached to the machine, ready to simulate the entire set of machining operations. Menus for project configuration and machine configuration are separated and the Machine Configuration menu can even be removed from the desktop to simplify day-to-day NC programming and simulation use.

New Tool Manager Speeds Optimization

VERICUT's NC program optimization module--OptiPath(r)--is easier to implement thanks to a redesigned Tool Manager. OptiPath tooling data is now stored inside the Tool Manager. Not only does this simplify the implementation, multiple tools can reference one OptiPath record. Creating new tools has also been simplified. The new tool assembly wizard allows the user to create a new milling tool in one simple panel by answering a few questions. If a tool has already been created in another library, users can reference or copy the complete tool assembly, or only the cutter or holder portions. A new search feature has been implemented to simplify finding existing tools in both single and multiple tool libraries.

Model Export Enhancements

VERICUT's model export option has been enhanced in Version 6 to allow export of native CATIA V5, ACIS SAT, and STEP models.

Model export creates CAD models from the VERICUT 'in-process' cut model generated by simulating an NC program. The model includes machined features such as holes, flllets, corner radii, pocket floors and walls - exactly as it is cut on the CNC machine. In VERICUT 6.0, Model Export now outputs features where possible and also "synthetic features" when individual features are not possible or desirable (such as "scallops" created by a ball endmill). Other enhancements result in better quality models with smoother edges and surfaces. Exported files use NURBS trimming curves, resulting in smaller file sizes.

Create CNC Probe Programs and Inspection Sequences

VERICUT is an ideal place to create probing routines because of its 'in-process' model which is not available anywhere else in the CNC manufacturing process. Using VERICUT's simulated in-process feature geometry to create a CNC probe program makes on-machine in-process inspection a practical reality. In addition to CNC machine probe programming VERICUT Version 6 allows the creation of inspection instruction documents in HTML or PDF format for use by machine operators or quality control staff.

VERICUT runs under Windows and UNIX operating systems. With headquarters in Irvine, California, CGTech specializes in numerical control (NC/CNC) simulation, verification, optimization, and analysis software technology for manufacturing. Since 1988 VERICUT has become the world-wide industry standard for simulating and verifying CNC machining. With subsidiaries in the United Kingdom, Germany, France, Italy and Japan and resellers throughout the world, VERICUT software is used by companies of all sizes, universities, colleges and government agencies.

For more information, visit the CGTech web site at www.cgtech.com or call Bryan Jacobs at (949) 753-1050.

CGTech, VERICUT, and OptiPath are registered trademarks of CGTech.

AUTO-DIFF and X-Caliper are trademarks of CGTech.
More from Machinery & Machining Tools