Software converts 2D drawings into 3D models.
Press Release Summary: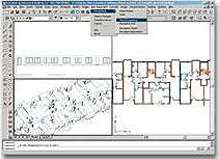 PlanTracer v1.2 for Architectural Desktop and AutoCAD/AutoCAD LT 2004 employs recognition method with ability to convert 2D vector drawings, raster images, and hand-drawn sketches into models. Suited to A/E/C, CAD, GIS and Reprographics markets, mathematical algorithm helps ignore divergence in objects' geometry, and special built-in procedure makes walls align correctly. Additionally, software is capable of using existing or generated symbol libraries.
---
Original Press Release:

IDEAL.Com Launches PlanTracer for Architectural Desktop and AutoCAD/AutoCAD LT 2004


Converts 2D Vector and Scanned Drawings into 3D Models

Is First on the Market to be Compatible with AutoCAD 2004

July 16, 2003, Rockville, MD IDEAL.Com, exclusive North American Distributor for Consistent Software, launches PlanTracer for Architectural Desktop and AutoCAD/AutoCAD LT 2004. PlanTracer 1.2, developed by Consistent Software, has a new recognition method that uses "sketch mode" which uses a unique conversion algorithm for hand drawn objects. PlanTracer is the first 2-D to 3-D software on the market compatible with AutoCAD/AutoCAD LT 2004. It is targeted to the A/E/C, CAD, GIS and Reprographics markets.

"Facility managers can scan their paper drawings using an IDEAL/Contex scanner, convert the raster data to vector with the WiseImage plug-in to PlanTracer, and then create a 3-D model." says Jay Magenheim, President of IDEAL.com. "PlanTracer bridges the gap between an AEC model of a building and vector data provided by any 2D drawing system or by raster-to-vector conversion software."

What's new in PlanTracer 1.2

A new recognition method is now available. The sketch mode is specially designed for hand drawn floor plans. A new mathematical algorithm helps to ignore divergence in the objects' geometry, and a special built-in procedure will make the walls align correctly.

PlanTracer Benefits

o Ability to convert 2D CAD drawings, raster images and even sketches into models quickly and "intelligently"

o Unique conversion algorithms

o Improved turnaround time for floor data extraction

o Easy to learn and use

o Capable of using existing or generated symbol libraries

o Open architecture for system integrators and third-party developers (FM version)

PlanTracer Compatible with IntraNETIX Online PlanRoom

PlanTracer is also compatible with IDEAL's IntraNETIX Online PlanRoom which provides quick search, view and print of scanned small format and large format documents on a company LAN or over the Internet. Users of IntraNETIX Online PlanRoom can download their scanned raster drawings, and, using PlanTracer, convert their drawings into 3-D models; then modified drawings can be uploaded back to their centralized drawing repository.

About IDEAL

IDEAL.com develops, markets, and supports a wide range of color and monochrome scanning solutions for large format drawings and technical documents including Scan to Web and Print from Web solutions. The cost for PlanTracer for Architectural Desktop 2004 is $980 and the cost for PlanTracer for AutoCAD 2004 is $1400. For more information on PlanTracer or a color tiff image, please contact Kathy Magenheim at 301-468-0123 ext. 1230 or contact via email at kmagenheim@ideal.com.

Related