Soft Tissue Transponder helps guide radiotherapy/radiosurgery.
Press Release Summary: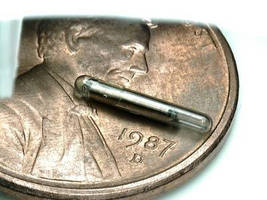 By providing real-time, continuous tumor position information, Calypso® 17G soft tissue Beacon® transponder can help enhance precision of radiotherapy and radiosurgery treatments for cancer. Each FDA 510(k)-cleared and CE-marked unit emits non-ionizing electromagnetic signal. Excluding lungs, transponders can be implanted within soft tissue throughout body. Calypso system tracks signal, precisely guiding treatment beams to target tumors during treatment with medical linear accelerators.
---
Original Press Release:

Varian Launches New Smaller Calypso Beacon Transponder to Guide Radiation Therapy in Soft Tissue Tumors



New transponder receives FDA 510(K) clearance and CE Mark



PALO ALTO, Calif. -- Varian Medical Systems (NYSE: VAR) today announced a new Calypso® 17G soft tissue Beacon® transponder that is 50 percent smaller than the previous version. The 17G device can help enhance the precision of radiotherapy and radiosurgery treatments for cancer by providing real-time, continuous tumor position information, based on the implanted transponders, and has received FDA 510(k) clearance and CE mark.



The size of a grain of rice, the new Varian Calypso® 17G soft tissue Beacon® transponder, can help enhance the precision of radiotherapy and radiosurgery treatments for cancer by providing real-time, continuous tumor position information, based on the implanted transponders, and has received FDA 510(k) clearance and CE mark.

The size of a grain of rice, each Beacon transponder emits a non-ionizing electromagnetic signal that is tracked in real-time by the Calypso system, guiding treatment beams to precisely target tumors during treatment with medical linear accelerators, such as the Varian's Edge™ radiosurgery system. The 17G Beacon transponders are commercially available, and for more information, visit http://www.varian.com/news/calypso.



The smaller Calypso technology benefits a broader range of patients during the implantation of the transponders, which is typically an outpatient procedure.  "The new 17G implantation device has half the cross-sectional area as the prior 14G technology, increasing patient comfort and improving access to tumors," said Zachary S. Collins, M.D., section head of interventional radiology, Kansas University Medical Center. "The smaller technology may make the use of Calypso viable in a broader population of liver patients and may make it possible for interventional radiologists to implant Beacon transponders in the pancreas without an open surgical procedure."



The new transponders can be implanted within the soft tissue throughout the body, with the exception of the lung. Based on the transponder signals, the Calypso System uses "GPS for the body™" technology to track even the slightest movement of the tumor without using ionizing radiation. Even tumors exhibiting respiratory motion can be precisely targeted through Calypso's innovative technology, which allows the beam to be gated on only when the tumor is in the planned position.



The Calypso System is the only device on the market that delivers real-time, continuous (25 Hz update rate), 3D tumor position information, improving confidence that the prescribed dose has been delivered to the tumor. This increased precision can enable treatment margin reduction, which can protect healthy tissue and reduce certain side effects1. The Calypso system, when used with the new 17G transponders, delivers equivalent accuracy and precision as compared to the established 14G devices.



"With the precise targeting provided by Calypso technology, we are able to reduce treatment margins and liver toxicity compared to conventional radiotherapy without Calypso beacons," remarked Neal Dunlap, MD, Radiation Oncologist, University of Louisville, Kentucky.



About Varian Medical Systems

Varian Medical Systems, Inc., of Palo Alto, California, focuses energy on saving lives by equipping the world with advanced technology for fighting cancer and for X-ray imaging.  The company is the world's leading manufacturer of medical devices and software for treating cancer and other medical conditions with radiation. The company provides comprehensive solutions for radiotherapy, radiosurgery, proton therapy and brachytherapy. The company supplies informatics software for managing comprehensive cancer clinics, radiotherapy centers and medical oncology practices. Varian is also a premier supplier of X-ray imaging components, including tubes, digital detectors, cables and connectors as well as image processing software and workstations for use in medical and industrial settings, as well as for security and non-destructive testing.  Varian Medical Systems employs approximately 7,400 people who are located at manufacturing sites in North America, Europe, and China and sales and support offices around the world.  For more information, visit http://www.varian.com or follow us on Twitter.



Calypso® System: Assessing the Impact of Margin Reduction (AIM) Study, http://varian.com/sites/default/files/resource_attachments/Calypso_AIM_Study-RAD10259Oct12.pdf



Press Contact

Mark Plungy

Varian Medical Systems

+1 (650) 424-5630

mark.plungy@varian.com