Soft Starters feature polarity balancing.
Press Release Summary: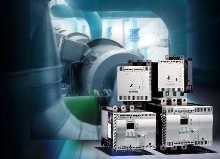 Sirius 3RW40 controls 2 phases in power range up to 300 hp/460 V, while Sirius 3RW44 features closed-loop torque control, allowing it to start drives up to power rating of 950 hp/480 V in standard configuration. Both have motor protection with adjustable overload tripping time, and bypass contact system, which minimizes power loss. Polarity Balancing ensures smooth start-up by generating uniform motor starting characteristics in speed, torque, and current.
---
Original Press Release:

Siemens Introduces a New Generation of Sirius Soft Starters


Presenting advanced features in two new product families that save costs in a multitude of start-up applications

ATLANTA (July 12th, 2005) - Siemens has launched two new, multi-featured soft starters, the Sirius 3RW40 and the Sirius 3RW44, that can be used in a wide variety of start-up applications from gently starting/stopping conveyor belts through to hydraulic pumps. The new additions extend and complement the modular Sirius range of fast- and easy-to-combine products that switch, protect and start motors and other loads.

Extremely compact, the Sirius 3RW40 is half the size of a comparable wye-delta starter, saving space in the control cabinet. A new control technique allows it to control two-phases in the power range up to 300HP/460V. Additionally, it uses a new Siemens patented control technique called "Polarity Balancing" to avoid DC current components in soft starters that control two phases.

The second new product, the Sirius 3RW44, is designed for the most demanding motor starting applications and has an innovative closed-loop torque control allowing it to start drives up to a power rating of 950Hp/480V in a standard configuration. When starting and stopping motors it can ensure torque surges and current spikes are avoided, saving costs when dimensioning switchboards and when servicing and maintaining machinery. Start up is made simple using a keypad with a menu-driven graphical display. A new brake function allows for quicker stopping of freewheeling loads.

Both soft starter families have the full range of integrated protective functions: they have a bypass contact system which minimizes power loss preventing rising temperatures around the control gear; both have motor protection with adjustable overload tripping time. This latter feature makes an overload relay unnecessary and therefore saves space in the control cabinet and eliminates additional wiring costs in the load feeder. Both the 3RW40 and 3RW44 also have internal self protection and optional SITOR semiconductor protection fuses, which prevent thermal overloading of the thyristors or a short-circuit.

Due to a new patent by Siemens "Polarity Balancing", the Sirius 3RW40 ensures a smooth and quiet start-up by generating uniform motor starting characteristics in speed, torque and current. Diagnostics are easy with three LEDs to give information about the operating state and possible faults such as phase failures, unreliable tripping time/Class setting, thermal overloads or device failures. As a soft starter for standard applications it has an output range of 75 to 300Hp at 480V.

One of the many advanced soft starting applications the Sirius 3RW44s is well suited for is for ensuring that hydraulic pumps start and stop softly. The innovative closed loop torque control reduce mechanical stress on drives and pumps when starting or stopping and prevent sudden water pressure as a result of immediate switch off. The 3RW44s convenient operator interfaces allow measurement and operational values, plus warning and fault messages to be continuously shown in the display, when control voltage is applied.

Further information is available in the Internet at: sea.siemens.com/controls

About Siemens:
Siemens AG (NYSE:SI) is a leading global electronics and engineering company with reported worldwide sales of $80.5 billion in fiscal 2003. With its United States corporate headquarters in New York City, Siemens in the U.S. has sales of $16.6 billion and employs 65,000 people throughout all 50 states and Puerto Rico. Eleven of Siemens' worldwide businesses are based in the United States. With its global headquarters in Munich, Siemens AG and its subsidiaries employ 417,000 people in 192 countries. For more information on Siemens in the U.S.: www.usa.siemens.com.

Siemens Energy & Automation Inc. is one of Siemens' operating companies in the U.S. Headquartered in the Atlanta suburb of Alpharetta, Ga., Siemens Energy & Automation manufactures and markets one of the world's broadest ranges of electrical and electronic products, systems and services to industrial and construction market customers. Its technologies range from circuit protection and energy management systems to process control, industrial software and totally integrated automation solutions. The company also has expertise in systems integration, technical services and turnkey industrial systems.

For more information: www.sea.siemens.com.

Related