Soft Starter facilitates energy efficient induction motor operation.
Press Release Summary: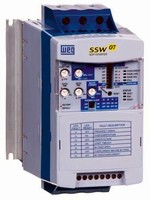 Based on DSP control, WEG SSW07 soft starter provides both low inertia start and high breakaway torque load start, and limits initial voltage drop while avoiding high current spikes or inrush current. Built-in bypass minimizes power losses and heat dissipation in thyristors and operates at ambient temperatures up to 55°C without down grading or current reduction. With 1.3-5 kg weight, unit is available in sizes ranging from 162-276 mm high, 95-223 mm wide, and 157-220 mm deep.
---
Original Press Release:

Powerful Soft Starter Benefits Demonstrated by WEG SSW07



ATLANTA, Georgia, June 25, 2008 - WEG Electric Motors Corp. (www.weg.net), a leading global supplier of motors, drives, controls, generators, and transformers, has introduced the WEG SSW07 soft starters for advanced energy efficient induction motor operation. They cover a wide power range, 17A to 200A (200V to 575V three-phase, AC) and are available in three compact models offering excellent value.

The SSW07 delivers increased reliability and longer life for motors and mechanical transmission and couplings, and other benefits include the choice of starting modes to suit the application, integral electronic motor protection, easy configuration, and a range of field bus communications.

The excellent versatility of the SSW07 is based on Digital Signal Processing (DSP) control which combines accuracy and repeatability in the start up sequences with ease of configuration and programming. DSP enables the SSW07 to provide both a low inertia start and a high breakaway torque load start suitable for different applications, and limits initial voltage drop while avoiding high current spikes or inrush current.

Jorge Velazquez, WEG senior drives engineer, explained: "This makes the SSW07 ideal for a very wide variety of industrial application duties from pumps and fans to conveyors, compressors, saws and extruders." He continued: "Energy savings are achieved through the built-in bypass which minimizes power losses and heat dissipation in the thyristors; it operates at ambient temperatures up to 55°C without down grading or current reduction."

The bypass also ensures the compact dimensions of the SSW07 making it easy to install in panels and equipment packages; sizes range from 162mm - 276mm high, 95mm - 223mm wide and 157mm - 220mm deep, and weights range from 1.3kg to 5 kg.

Communications, configuration, and programming to meet customer requirements of the SSW07 are rapid and simple through the range of easy-to-install options and modules. These include the hand-held man machine interface keypad which can be plugged into the front panel or remotely operated, the modules for Modbus, DeviceNet or Profibus fieldbus DCS networks which enable PC control or plug-in laptop configuration and programming through a front-mounted RS232 port.

Other modules include motor positive temperature coefficient (PTC) protection and a ventilation kit (45A to 200A models) for heavy duty starting cycles.
Velazquez concluded: "With its many customer benefits, the WEG SSW07 soft starter is gaining successful sales in Europe, USA, and many other countries where the benefits of soft start technology for induction motors is being established."

For additional information or to have a WEG application engineer contact you, please visit www.weg.net or call 1-800-ASK-4WEG.

About WEG Electric Motors Corp.
Founded in 1961, WEG has grown into a global solutions provider of industrial electrical technologies. WEG is the largest industrial electric motor manufacturer in the Americas and one of the largest manufacturers of electric motors in the world producing over ten million units annually. Committed to growth on a global scale, WEG continually invests in state-of-the-art manufacturing facilities and processes, and the development of new and improved industrial electrical solutions. WEG offers a diverse and integrated product line that includes motors, drives, controls, transformers, and generators. WEG has committed to an R&D investment of 3% of annual, global sales.

Company Name: WEG Electric Motors Corp.
Address 1: 1327 Northbrook Parkway
Address 2: Suite 490
City: Suwanee
Country: United States
Phone: 1-800-ASK-4WEG

URL: www.weg.net/us

Client Contacts:
WEG Electric Motors Corp.
Gerardo Elias-Rodriguez gelias@weg.net

Contact Name: Catherine Medler
Title: Marketing & Branding Specialist
E-mail: cmedler@weg.net

More from Chemicals & Gases