SnugZ Delivers High Quality Prints for Creation of Promotional Products with Epson SurePress Digital Label Printers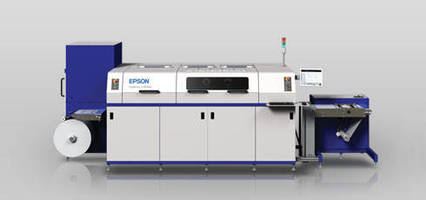 Epson SurePress L-4033AW Helps SnugZ Meet Customer Demands with High Quality Prints, Repeatability and Faster Turnaround



LONG BEACH, Calif. – SnugZ USA, a leader in the promotional products industry, is using two Epson SurePress® L-4033AW digital label presses for the creation of promotional products, including high-quality customized labels, personal care products and dome stickers for a variety of customers ranging from Fortune 500 companies to smaller mom and pop shops. With over 300 full-time employees working in two divisions – lanyards and personal care items – in Salt Lake City, Utah, SnugZ strives to provide the best possible quality to their customers in a quick turnaround time using the SurePress L-4033AW.



"Part of SnugZ's mission is to provide customers with the best quality that we can. When we heard that the SurePress would be able to offer us better quality, we were very interested," said Jennifer Imes, digital print manager, SnugZ. "One of the features that we love about the SurePress is its repeatability – it allows us to take a job that we printed a year ago and print it today and have it look exactly how it did a year ago. In the past, we have had issues getting fine detail, especially in small text, but the SurePress has allowed us to print small text that is legible, which is an amazing selling point for our customers."



Designed for prime label converters and commercial printers, the Epson SurePress L-4033AW is an easy-to-operate seven-color inkjet digital label press with White ink that makes high-quality, short-run label printing easier and more efficient, even on clear and metallic substrates. Delivering exceptional print quality and accurate color reproduction, as well as innovative printing features, the L-4033AW is a cost-effective and reliable solution that allows printers to expand their service offerings and improve profitability.



Driving the SurePress L-4033AW is the included Wasatch RIP and Print Management Software. The Wasatch SoftRIP is a sophisticated RIP solution designed to save time and money by including superior color management options, efficient layout features, powerful workflow tools, variable data printing, and contour cutting, all while producing excellent quality color. "Here at SnugZ we have a quick 24 hour turnaround time. Using Wasatch and the Epson SurePress takes all the worry out of meeting deadlines," said Cory Davis, digital print team lead, SnugZ. "The Epson SurePress is a true, prime label quality press that allows us to be able to print retail quality labels for our customers."



"Something that is really important to SnugZ is our relationship with our suppliers. The SurePress has not only given us great quality and repeatability, but it has given us a growing relationship with Epson that we truly value," continued Imes. "For SnugZ's customers, their logo is the essence of who they are, and the SurePress allows us to deliver those logos in amazing quality, which is what they demand."



About Epson SurePress L-4033AW:



 • High Quality Labels: Epson MicroPiezo® ink jet technology with variable-size droplets as small as three picoliters provides ultra-precise drop formation and placement to deliver smooth gradations, remarkable color quality, and sharp detail



 • Industrial Quality Inks: Seven-color (Cyan, Magenta, Yellow, Black, Orange, Green, and White), durable, water-based, resin-coated pigment inks provide superior adhesion and reproduce a wide range of colors



 • Versatile Substrate Support: Prints on a range of standard, off-the-shelf materials including gloss, semi-gloss, matte, film, clear, and metallic substrates



For additional information, visit www.epson.com/surepress or contact Mark Elsbernd, North America region sales manager, Epson America, at 562-290-5244 or mark_elsbernd@ea.epson.com.



About Epson

Epson is a global technology leader dedicated to driving innovations and exceeding customer expectations in printing, visual communications, quality of life and manufacturing. Epson's lineup ranges from inkjet printers, printing systems and 3LCD projectors to industrial robots, smart glasses and sensing systems and is based on original compact, energy-saving, and high-precision technologies.



Led by the Japan-based Seiko Epson Corporation, the Epson Group comprises nearly 72,000 employees in 93 companies around the world, and is proud of its contributions to the communities in which it operates and its ongoing efforts to reduce environmental burdens.



Epson America, Inc., based in Long Beach, Calif., is Epson's regional headquarters for the U.S., Canada, and Latin America. To learn more about Epson, please visit: epson.com.

More from Cleaning Products & Equipment