SnowShield Canopies can withstand up to at least 350 lb of snow accumulation.
Press Release Summary: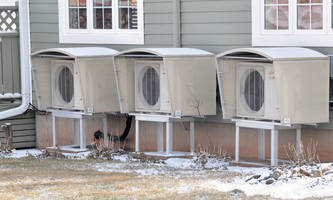 SnowShield Canopies are offered in HPS-1, HPS-2 and HPS-3 models with 26 h x 34 w x 18 in. d, 34 h x 38 w x 18 in. d and 56 h x 38 w x 18 in. d sizes. Designed for condensers ranging from 9,000 to 60,000-BTU/hr, unis consist of corrosion resistant top panel and vinyl-covered aircraft-grade aluminum. These units protect against snow, icicles and falling debris. SnowShield is offered in black, grey or tan colors.
---
Original Press Release:
Marketair's New SnowShield Protects Mini-Split Condensers from Extreme Weather Elements
Aesthetic SnowShield canopy/shelter protects mini-split condensers from snow, icicles, falling debris, and year-round UV and heat from direct sunlight.
Marketair, Edison, N.J., a leading provider of HVAC/R installation and service accessories/tools, introduces SnowShield, a lightweight, easy-to-install mini-split condenser canopy/shelter for protection against snow, icicles, falling debris and year-round direct sunlight for the U.S. market.
SnowShield comprises an inverted U-shape with the top panel constructed of sturdy corrosion-resistant, vinyl-covered aircraft-grade aluminum. Its design allows full airflow while protecting the condenser from snow and ice and doubles as a summertime heat and ultraviolet (UV) sun shade. The aesthetic, functional design comes in black, grey or tan colors.
SnowShield fits over all mini-split brands and mounts to all condenser wall brackets, support stands or pads. It's available in three sizes: HPS-1 for 9,000 to 15,000-BTU/hr condensers with a maximum size of 26 (h) x 34 (w) x 18-inch (d); HPS-2 for 18,000 to 24,000-BTU/hr and maximum condenser size of 34 (h) x 38 (w) x 18-inch (d); and the HPS-3 for 30,000 to 60,000-BTU/hr and maximum condenser size of 56 (h) x 38 (w) x 18-inch (d).
SnowShield is collapsible and ships in compact, easy handling, stackable, 8-inch-deep cardboard cartons that include stainless steel mounting hardware and detailed instructions.
Inspired by a local HVAC contractor with snow/ice-damaged condensers, Able Canvas of Grand Barachois, New Brunswick, developed SnowShield four years ago to withstand extreme conditions of the Atlantic Seaboard and now has thousands of installations throughout Canada without any failures or warranty returns.
SnowShield also features:
Two-year full warranty;
Heating/cooling efficiency improvement versus exposed condensers;
All metal components are corrosion-resistant;
Tough vinyl-covered aluminum top can withstand up to at least 350-pounds of snow accumulation;
Doesn't block airflow condenser airflow;
Withstands all temperature extremes.
Marketair is the exclusive importer of SnowShield, which is available direct or through most wholesale HVAC distributors in the U.S. For more SnowShield information or to receive a free Marketair HVAC/R products catalog, please visit www.marketair.com, call (732) 985-8226 or email: info@marketair.com.
About Marketair: Originally founded by President Gerry Spanger as a manufacturer's representative company in 1986, Marketair has now reinvented itself as an importer, exporter, manufacturer and distributor specializing in components and accessories for the HVAC industry. Headquartered in Edison, N.J., Marketair has acquired several innovative new products for commercial and residential HVAC applications, covering both the ducted and minisplit (ductless) sectors. Marketair operates as a national distributor for smaller independent U.S. manufacturers. The company has established a national network of manufacturer's representatives through which these products are sold in the HVAC/R industry wholesale distributors. It has also established a centrally-located warehouse for shipping products throughout the U.S.
More from Machinery & Machining Tools