Snap-In Power Rocker Switches feature gold contacts.
Press Release Summary: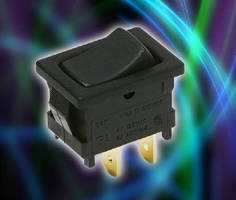 Rated for 10,000 make-and-break cycles at full load, D Series is available with variety of actuators, mounting styles, terminations, and markings. Miniature ½ x ¾ in. customizable units range from 2–10 A and 30 Vdc to 250 Vac with operating temperature of -22 to +149°F. Available in 7 SPDT, 2 SPST, 4 DPDT, and 2 DPST functional configurations, switches are suited for low-voltage lighting, data server, computer, medical, and small appliance applications.
---
Original Press Release:

C&K Now Offers Miniature Snap-In Power Rocker Switches with Gold Plated Contacts for Low Voltage Applications



Designed for low voltage, low current applications, C&K's D Series switches with gold contacts provide reliable, highly customizable switching solutions in lighting, data server, computer, peripheral, medical, & small appliance applications



NEWTON, MA – C&K Components, a leading global manufacturer of electromechanical switches, smart card interconnect devices, and high reliability connectors, now offers its popular D Series miniature snap-in power rocker switches with gold contacts. Designed for low voltage, low current applications in a variety of circuits, the industry-standard ½" x ¾" (19 x 12mm) D Series snap-in power rockers with gold contacts provide more reliable switching performance at lower power ratings than the series' standard silver contacts, which require higher power to resist tarnish buildup and prevent performance degradation. Rated for 10,000 make-and-break cycles at full load, and available with a wide variety of switch functions, actuators, mounting styles, terminations, and markings, gold-contact D Series rocker switches provide reliable, highly customizable switching solutions in a broad range of low power lighting, data server, computer, peripheral, medical instrumentation, and small appliance applications.



"The D Series' standard silver plated contacts are ideal for power applications in which the current and voltage exceeds 0.4VA at 20V AC/DC, due to the fact that higher power keeps the contacts clean and free of oxidation by causing a small arc as the switch changes state. Silver contacts will tarnish if there's not sufficient current and voltage to create an arc, especially in high sulfur and humid environments, and the tarnish will continue to build over time, causing intermittency and unreliable switching," said Kyle Peterson, product manager at C&K. "Alternately, gold plated contacts exhibit superior resistance to oxidation at low currents, which makes them ideal for use in low energy switching applications (below 0.4VA at 20V AC/DC) that require stable contact resistance and reliable switching, especially in adverse conditions. So, adding a gold contact option to our proven, and already extremely versatile, D Series miniature snap-in rocker switches effectively doubles the number of applications they're ideally suited for by opening them to applications with current ratings that are too low to ensure that the silver contacts will provide long term reliable switching."



Rated for 2A to 10A, 30VDC to 250VAC, and -30°C to +65°C (-22°F to +149°F), C&K's D Series miniature snap-in power rocker switches are highly customizable. Functional configurations include: 15 switch functions — seven single pull double throw (SPDT), two single pull single throw (SPST), four double pull double throw (DPDT), and two double pull single throw (DPST) — each with multiple combinations of momentary and maintained switch positions, rocker and lever actuators in three colors, four mounting styles, six termination options — three PC through-hole configurations (standard, extended, and right-angle) and three quick connect configurations (standard, twisted, and wirable), and both gold and silver contacts.  The RoHS-compliant series is also available with both standard and custom markings and an optional recessed bracket designed to prevent accidental actuation.



For more information about C&K's D Series miniature snap-in power rocker switches, please visit http://www.ck-components.com/15103/d_26aug14.pdf/ to access the datasheet, view the product series matrix, and locate an authorized distributor near you. For all other inquiries, please visit http://www.ck-components.com/ or call 617-969-3700.



About C&K Components  

C&K Components is a leader in interface and switch technology, as well as smart card and high reliability connector products. C&K Components offers more than 55,000 unique part numbers that are built, priced, and delivered as standard catalog items. www.ck-components.com.



For more information, contact:

Allison Turner

C&K Components

617-969-3700

allison.turner@ck-components.com

More from Sensors, Monitors & Transducers