Snap-Action Rotary Switch withstands vibration and shock.
Press Release Summary: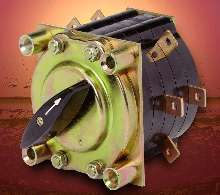 Snap-Action Switch line offers double-wiping, low-resistance contacts that hold their positions inside fully enclosed decks. Suited for dc and ac switching, models carry continuous ratings from 20 to 200 A at 600 V, and are available with up to 4 positions and 12 poles. Snap-action design provides approximately 10 msec transfer time. Non-shorting contacts are standard.
---
Original Press Release:

Snap-Action Switches For High-Shock Conditions


WEYMOUTH, MA - Electroswitch announces the availability of their full line of Snap-Action Rotary Switches. Designed to withstand conditions of extreme shock or vibration, Snap-Action Switches are ideal for a wide variety of industrial applications. Because the Snap-Action Switch has double-wiping, low-resistance contacts that hold their positions inside fully enclosed decks, these durable switches provide consistently excellent performance even under severe conditions.

Snap-Action Rotary Switches are designed for DC as well as AC switching. Models carry continuous ratings ranging from 20 to 200 amps at 600 volts and are available with up to 4 positions and 12 poles. The snap-action design assures quick make and break action (approximately 10-millisecond transfer time) that is not dependent on the operator. Contacts are enclosed in molded phenolic insulating disks, but to minimize resistance and heating the stationary contacts extend outside the disks and serve as connecting terminals. Nonshorting ("break-before-make") contacts are standard, and shorting ("make-before-break") contacts are available on order. An optional "sweep" contact maintains the connection with the rotor through consecutive positions. Rotation is unlimited and continuous in both directions but can be limited to customer-specified positions.

Spring return is an available feature on the Series 101, 103, and 105 models. The Series 107 model is designed to handle an overload current up to 600A/600VAC (resistive, based on 50 operations). All models are equipped with four-hole mounts. The Series 101 model is also available with a single-hole mount. Waterproof and base-mount versions are optional.

Snap-Action Rotary Switches have been successfully used in mining, welding, telephone equipment, overhead magnets, UPS systems, train warning lights, and power source selectors. Pre-configured, application-specific models include Voltmeter Transfer Switches, Ammeter Transfer Switches, Three-Phase Reversing Switches, and Changeover Switches. Prices start at $30 with delivery quoted at 2 weeks ARO.

Electroswitch is the industry leader in the design, manufacture, and marketing of tough, reliable switches, relays, and other electrical systems products for utility, industrial, and military environments. The Electroswitch line of standard products is complemented by the company's proven ability and willingness to modify, custom design, and test their switches and relays for virtually any application. The company takes pride in meeting customer delivery requirements, no matter how stringent.

For more information, contact Mr. William Conklin, National Sales Manager, Electroswitch, 180 King Avenue, Weymouth, MA 02188, TEL: (781) 335-5200, FAX: (781) 335-4253, www.electroswitch.com.


More from Printing & Duplicating Equipment