Snap-Acting Key Switches offer tactile feel.
Press Release Summary: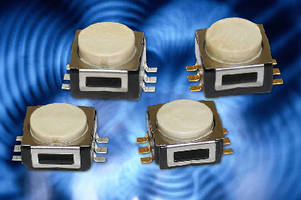 Featuring silver- or gold-plated dome inserts for tactile feedback, K5 Series are suited for automotive, computing, and multi-function device applications. Measuring 8.2 x 8 x 6 mm, momentary action, SPST Model K5G features mean operating force of 3.7 N for first stroke, 6.5 N for second stroke, and operational life of 30,000 actuations. Momentary action, normally open Model K5A2, measuring 8.2 x 8 x 4.5 mm, has mean operating force of 5.5 N and operational life of 50,000 actuations.
---
Original Press Release:

C&K Develops Low Profile Snap-Acting Key Switches with Superior Tactile Feel



New key switches ideal for automotive, computing, multi-function device applications...

NEWTON, MA (January 20, 2009) - C&K Components, a leading international supplier of tact switches, toggle, rocker and pushbutton switches, and smart card interconnect devices, has added two new devices to its family of K5 Series snap-acting key switches. The new K5G and K5A2 switches feature silver- or gold-plated dome inserts for enhanced user feel, provide excellent tactile feedback, and are housed in small, low profile packages.

"Along with superior tactile feel, the K5G and K5A2 switches provide excellent acoustic
qualities," said Gustavo Jimenez, product manager for C&K Components. "Coupled with our large production and inventory capacity, we are able to satisfy customer's design requirements as well as immediate volume production demands."

The K5G switch is a double action SPST switch measuring only 8.2 x 8 x 6mm. The switch has a dual functionality design, streamlining equipment design and making it ideal for multi-function equipment. The momentary action switch features a mean operating force of 3.7N for the first stroke, and 6.5N for the second stroke. Travel is 0.5mm and 0.85mm for the first and second strokes, respectively. The K5G switch features an operational life of 30,000 actuations, and is ideal for use in car window and sun-roof controls, as well as multi-function controllers.

The momentary action, normally open K5A2 key switches are even lower profile, measuring just 8.2 x 8 x 4.5mm. Mean operating force is 5.5N, with a 6N version available. Electrical travel is 0.5mm (±0.1mm), with an operational life of 50,000 actuations. The K5A2 switch is specified for use in automotive, computing and networking equipment.

Both the K5G and K5A2 switches are available on tape and reel packaging for automated
assembly.

Typical pricing for the K5G and K5A2 switches ranges from $0.97 to $1.50 in minimum order quantities of 1200 pieces.

About C&K Components

C&K Components is a division of CoActive Technologies, a privately held company
manufacturing electromechanical switches, interface controls, keypads, dome arrays and
modules. www.ck-components.com

Leads Contact:
Allison Turner
C&K Components
15 Riverdale Ave
Newton MA 02458
Tel: 617.969.3700
[email protected]

URL: ck-components.com/k5a2/tactile,27708,en.html;
http://ckcomponents.com/k5g/tactile,27696,en.html