SMT Side-Actuated Tactile Switches have rugged PCB soldering pads.
Press Release Summary: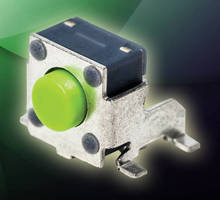 Comprising vertically-oriented, SPST, NO, momentary-action tactile switches with 6 x 6 mm footprint, PTS645V Series features PCB soldering pads ruggedized for secure surface mount connection. RoHS-compliant switches, with operating life of 100,000 cycles, are rated for 12 Vdc and 50 mA. Travel distance is 0.25 mm (+0.2/-0.1 mm), and choice of actuation forces includes 100 gf ±30 (dark gray) and 160 gf ±50 (yellow green) with bounce time of ≤10 msec.
---
Original Press Release:

C&K Introduces 6mm SMT Side-Actuated Tactile Switches



Compact 6x6mm tact switches features robust PCB soldering pads for SMT processing



NEWTON, MA – C&K Components, a leading global manufacturer of electromechanical switches, smart card interconnect devices, and high reliability connectors, has introduced the PTS645V Series surface mount, side-actuated, momentary-action tactile switches, designed for instrumentation, set-top and cable access boxes, home and garden equipment, and consumer electronics applications.



"These vertically-oriented, compact tactile switches feature robust PCB soldering pads for a secure, surface mount connection," explained Jerome Smolinski, senior product manager at C&K. "With an operating life of 100,000 cycles, the PTS645V Series devices are ideal for a wide range of consumer electronics and instrumentation applications that require a rugged momentary action switch."



The PTS645V Series devices are vertically-oriented single pole, single throw (SPST), normally-open (NO) momentary-action tactile switches that are designed to be surface mounted to the PCB. Rated for 12VDC and 50mA, the PTS645V Series feature a travel distance of 0.25mm (+0.2/-0.1mm), and a choice of actuation forces (100gf, ±30, dark gray), and (160gf ±50, yellow green), with a bounce time of ≤10ms.



All versions of the PTS645V Series switches have 6mm x 6mm footprint, and feature a 100,000 life cycle (minimum), and an operating temperature range from -20°C to 70°C. They are RoHS-compliant and conform to IEC61760-1 infrared reflow soldering standards.



For more information about C&K's PTS645V Series compact SMT side-actuated tactile switches, please visit http://www.ck-components.com/pts645v/tactile,90569,en.html to access the datasheet, view the product series matrix, and locate an authorized distributor near you. For all other inquiries, please visit http://www.ck-components.com/ or call 617-969-3700.



About C&K Components

C&K Components is a leader in interface and switch technology, as well as smart card and high reliability connector products. C&K Components offers more than 55,000 unique part numbers that are built, priced, and delivered as standard catalog items. www.ck-components.com.



For more information, contact:

Allison Turner

C&K Components

617-969-3700

allison.turner@ck-components.com



Christine Stieglitz

BtB Marketing Communications

919-872-8172

christine.stieglitz@btbmarketing.com

Related